xXx: The Return of Xander Cage
Release Date: Jan 20th 2017
CAST: Vin Diesel, Deepika Padukone, Donnie Yen, Tony Jaa, Nina Dobrev, Rory McCann and Samuel L. Jackson.
Director: D. J. Caruso
Production Houses: Paramount Pictures & Revolution Studios
The third explosive chapter of the blockbuster franchise that redefined the spy thriller finds extreme athlete turned government operative Xander Cage (Vin Diesel) coming out of self-imposed exile and on a collision course with deadly alpha warrior Xiang and his team in a race to recover a sinister and seemingly unstoppable weapon known as Pandora's Box. Recruiting an all-new group of thrill-seeking cohorts, Xander finds himself enmeshed in a deadly conspiracy that points to collusion at the highest levels of world governments.
ALL CREDITS FOR THE INFO AND TRAILER BELOW GOES TO Paramount Pictures You may subscribe to them directly at their link.
We cover the movie on our desideewar pages here because of its connection to Deepika Padulone, India's leading film star seen in lead role here opposite Vin Deisel, Hollywood's popular action man of multiple action packed blockbuster franchises, namely- this and the Fast And The Furious (with over 7 in the series). This particular series includes xXx (2002) and xXx: State of the Union (2005) as its predecessors.
THE GOOD
1. THE CAST: Vin Diesel needs no review, having proven himself as a solid action leading actor in the international film industry. Samuel L. Jackson and all other supporting cast hold their fort well, in keeping with the action/ heist/ diplomatic theme. Coming to Deepika Padukone, well, even though you wouldn't leave the theater praising her acting skills (the movie certainly wasn't attempting at showcasing it either), her presence you would have felt (her tall frame), noticed (her heavy accent AND curvy figure) and admired (her personality). Her grand entrance was impressive and well executed.
2. THE LOCATION, ACTION AND THE HUMOR:
The on the edge and back kind of almost non-stop action keeps your interest to a large degree. The humor provides another angle of entertainment. Locations in Dominican Republic and the Philippines provided the perfect props for the action.
THE BAD ..
Deepika has a screen presence way more charismatic than depicted in the most frames. In fact, she looks more like the Deepika we know in the promotional events for the film (like the one seen below during her appearance in a late night show in USA). Her accent too seems heavier than normal- but then hey- it is about time that Indian accent be perceived as exotic, and who better than Deepika to pitch that idea :), eh?
OVERALL …
The movie really does live up to its expectations- which isn't really too high to begin with. Yes it is packed with the series' signature deadpan wit, bad-ass attitude, and some of the most mind-blowing stunts- just as it promises, so we can hardly complain if we aren't entertained enough. And since it is our interest in Deepika's involvement that pulled us to the theater with our kids in tow, I would say this again- the film didn't do justice to the power of our Padukone, but still provides an essential pathway for more to follow- in terms of more Indian actors making it big in Hollywood. However, it does make you wonder- why not harness the Indian American talent locally available? Perhaps they want to rope the already-big-names to rope in the huge movie going Indian (and Indian origin) population of the world. And why not- after all it does make perfect business (and entertainment) sense.
Got to mention, we complain about our close-to-50-and-50 heros' pairing with the young-around-30 heroines, so got to whine a little bit about the lead pair here too. Deepika at 31, certainly looks very young opposite 49 year old Vin Diesel who, if you think about it, almost looks like our desi stud Salman Khan … lol. But then, we don't exactly think of age when we look at the chiseled all-attitude Diesel. Alright, alright, perhaps the Khan fans feel the same- but they have got to stop pairing against 20-something at least!
HOW DID THE FILM FARE …
As per Forbes, the film brought in about $19m in its debut weekend and attributed its rather poor performance to the "relative overperformance of M. Night Shyamalan's Split". However, according to Forbes, the film "was engineered to kick butt overseas, with an inclusive (and delightful) supporting cast including Donnie Yen, Deepika Padukone, Toni Collette, Tony Jaa and Ruby Rose among many others. If it carries its weight in the 53 international markets in which it debuted, then its domestic figure is mere trivia".
In India, the movie saw a collection of Rs 20 crore in the first five days as per the Indian Express. But then it has Dangal to compete with, a movie that is inching towards creating a new benchmark of Rs. 400 crore in India in its 4th week.
MUST WATCH!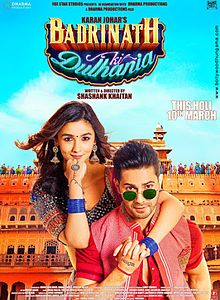 Badrinath Ki Dulhania
Released on 10th March, 2017
Badrinath Ki Dulhania stars Varun Dhawan & Alia Bhatt
Written & Directed by Shashank Khaitan
Produced by Hiroo Yash Johar, Karan Johar & Apoorva Mehta
Distributed by Fox Star Studios
This Holi, witness India's first love franchise film. Starring Varun Dhawan as Badrinath Bansal & Alia Bhatt as Vaidehi Trivedi, the film is more than just your boy meets girl love story. It's the coming together of raw & refined with a touch of desi-pan and a hatke definition of pyaar! Join them in the journey of love, laughter, and lunacy called Badrinath Ki Dulhania.
ALL CREDITS FOR THE INFO ABOVE & TRAILER BELOW GOES TO Dharma Productions. You may subscribe to them directly at their link.
Raees
Release Date: Jan 25th 2017
CAST: Shah Rukh Khan, Mahira Khan & Nawazuddin Siddiqui in the lead roles.
Directed by: Rahul Dholakia
Produced by: Ritesh Sidhwani, Gauri Khan and Farhan Akhtar
Distributed by: Red Chillies Entertainment
Written by: Rahul Dholakia, Harit Mehta, Ashish Vashi and Niraj Shukla
Director Of Photography: K.U. Mohanan
Lyrics: Javed Akhtar
Music: Ram Sampath
Shah Rukh or his films don't really need an introduction. His marketing strategies and personal charisma ensures that his movies are well heard of way before his hard core fans get to actually visually devour them. So here goes another one, this one plays out in the black market of Gujarat where a Muslim merchant of illegal alcohol rules
ALL CREDITS FOR THE INFO AND TRAILER BELOW GOES TO Red Chillies Entertainment You may subscribe to them directly at their link.
THE GOOD
1. THE CAST: One thing that is without fail a treat in SRK movies, is SRK himself. Well, maybe not his looks here, but his physical frame- always! At 51, his chiseled body has never looked better- in fact, has been looking its best since about a decade now. Whether you're a fan or not, his lithe movements and tight muscles you will be somehow very aware of. Gosh, we must talk of his acting though- its better than what you see him deliver in most movies. Got to admire the top two Khans, Aamir and Shah Rukh, for going to impressive lengths to physically mold themselves into a character.
Let's talk of Mahira Khan, the 32 year old famous Pakistani actress, who plays the lead in the film. She did a good job, but even though I am not taking sides with the don't-hire-Pakistani-artists campaign, her involvement does make you wonder about the reason behind it. Was he taking a stand on the opposition that Karan Johar faced as a result of casting Fawad Khan, a Pakistani actor, in Ae Dil Hai Mushkil? Or perhaps he was acknowledging the love that he gets from across the border? Or maybe he simply thought Mahira Khan fitted the bill. Googling her reveals that she is a mother and is divorced from her husband. She has looked good, done a good job, but really- a 20 year difference? Simply not a fan of big age gaps in lead roles. I personally think the role offered a good chance for SRK to cast an actress in her early 40s- a single mother who lived in the neighborhood perhaps? (I should a writer :))
Nawazuddin Siddiqui is clearly the star of the film. Even though you are fully aware of the power of his talent having seen and admired his work in the past, this one takes it to a whole new level, propelling you to bow in respect, especially considering who is sharing screen space with and matching tone with.
2. THE LOCATION/ ACTION:
Full marks to the makers for the sets and the sites. The action sequences, the chases- more specifically deserve even more of an applause.
3. THE MESSAGE/ THE THEME:
The best part about the movie was hands down the message! And we will leave it to you to find out what in the interest of keeping the review spoiler free! You walk out admiring Shahrukh for delivering the message wrapped in an interesting theme of Gujarat, subtly leading up to it, finally climaxing with few good words!
THE BAD ..
The message is powerful, the the theme interesting, but the plot offers nothing new, nothing different from what has been done in the past- the bad guy with principles theme has been done innumerable times before, his final outcome- predictable.
OVERALL …
Overall, Shahrukh Khan himself, the theme around Gujarat, the final message and a beautiful song is what makes the film worth a watch. And yes, it is a family flick except for a greasy item song (dozens- of- men- touching- a woman's- exposed smooth-silky-ab kind of greasy) (btw, the song itself- a remix of the 1970s Laila o Laila song- rather murdered the original classic)
HOW DID THE FILM FARE …
As per Indian Express, Raees is doing good business across the globe, despite its release being put on hold in neighboring Pakistan. By day 12, Raees has clocked 250-crore mark worldwide, by minting a total worldwide gross of Rs 259.42 crore and has been the fastest January release to clock Rs 100 crore at the domestic box office.