Here are few of our recommended movies from 2013!
Dhoom 3 (Released December 2013)
Dhoom 3 is out and out a family entertainment package. Even the strip sequence in the 'Kamli' song by Katrina, is done more as an 'act' rather than a sensual tantalizing dance. The kids in the group loved the sets, the action, the people, the acts and the songs. They loved that Americans talked in English and sounded like Americans, unlike some other Hindi movies (yes, you guessed it, 'Tezz' was confusing since the people didn't match with the sound that came out of them). And most of all, they loved the twist in the movie. The movie is family date night worthy for sure. What can be a more wholesome entertainment than that?
Breaking down to individual performances and contributions, the producers literally kept their attention on Aamir Khan's role. Others seems to have been left high and dry to fend for themselves. Not that you would complain, for Aamir has certainly carried the movie extremely well, both by his acting and his abs;), but you do feel the 'neglect' Abhishek seems to have been shown, especially his wardrobe. According to Koimoi.com, this Aamir Khan starer has made a worldwide business of about 452.79 crores, emerging as the Highest Grosser Worldwide!!! The same source also reveals that although the movie has surpassed 'Chennai Express' overseas collections, it still lags behind '3 Idiots' and SRK's 'My Name Is Khan'.
The movie is a must watch in case you missed it in theatres.
Race2 (Released Feb 2013)
This Abbas-Mustan directed sequel, Race2, lives up to the brand that is Race- fast paced, thrilling action sequences and with lots of twists and turns as it takes you through an adventurous ride of trying to keep up with the who's and the what's. However, it fails in two respects when compared with the original- 1. Some of the surprise elements don't really surprise and 2. The plot is neither as solid nor as creative.
Saif Ali Khan is the complete star in the movie, his style, his very natural acting, clothes, hair and personality- everything screams star power. Yes, he's done an awesome job. Unlike the other 40+ heros of the hindi cinema, the 1970 born actor actually truly gets away with having a twenty something pretty young lady by his side.
So, yes, you should go watch it, if you haven't already. Should you take kids with you? Probably not if they are under 12. But again, do watch the movie for the fast-paced riveting action packed thrill!
Special 26 (Special Chabbis) (Released Feb 2013)
We saw the movie and have got to add that the most impressive part about the movie was the absolute attention to details! Neeraj Pandey has totally succeeded in re-creating the India of the late 1980s. The true story that the movie is inspired from occurred in Mar 1987 and everything about the movie screamed of that decade. Right from President Giani Zail Singh, Prime Minister Rajiv Gandhi, Sunil Gavaskar batting, the attire, the Ambassador and Fiat cars on the road, down to the 'Liril' girl of that time on the magazine cover! Totally evokes nostalgia for those of us who were old enough to remember that time.

Of course, Manoj Bajpai, totally proves himself to be today's Naseeruddin Shah. Akshay, Jimmy Shergill, Anupam Kher have all given ace performances as well! A definite must-watch!
Satyagraha (Released Mar 2013)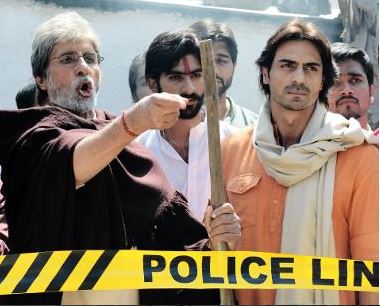 Cast: Amitabh Bachchan, Ajay Devgan, Kareena Kapoor
Arjun Rampal, Manoj Bajpai, Amrita Rao
Directed by: Prakash Jha
Amitabh Bachchan plays the role of a Gandhi inspired character. Kareena Kapoor, its said, plays the role of an international news correspondent. Apparently her role is inspired by the Chief CNN correspondent, Christiane Amanpour who gained popularity in India during the CNN coverage of the Gulf War. The movie also generated interest since Amitabh and Kareena are featured together in a movie for the first time since 'Dev' in 2004, finally bridging the rift between the Bachchans and the Kapoors that was caused by Abhishek- Karishma split. Amitabh has also seemed exciteded about showing Kareena the trailer of his Hollywood debut, The Great Gatsby,in which he has a cameo appearance. On his facebook page, he posted a picture of Kareena watching the trailer. Leonardo DiCaprio is Kareena's favorite, he wrote. Suffice to say, we're definitely interested!
Yeh Jawani Hai Deewani (Released May 2013)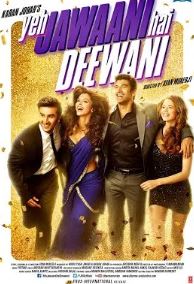 Starring:
Ranbir Kapoor
Deepika Padukone
In the movie, Ranbir and Deepika star in their second film together after 'Bachna Ae Haseeno'. Also, Ranbir and the director, Ayan Mukerji have teamed up for the second time as well, after 'Wake Up Sid'. The film is said to be a tribute to the cinema of Nasir Hussain, who directed classics such as Dil Deke Dekho and Teesri Manzil.
The movie revolves around Bunny whose passion is travel and is a travel show host. Deepika Padukone as Naina plays a 'Girl-Next-Door' kind of role and the German-Indian model, Evelyn Sharma, plays Lara in supporting role. Well, so far really looks like the likes of 'Bachna Ae Haseeno' or 'Love Aaj Kal', but might still be worth the watch if it's a light family entertainer, which it does appear to be. We'll probably come out of the theater saying that the story line was nothing new and that Ranbhir didn't offer us an entirely different look into his talent bank like he has in quite a few of his movies (thinking of Rocket Singh, Rajneeti, Barfi, etc) and even that Deepika had nothing new to offer. But watch the movie we will. Simply because a Ranbir movie you miss not!
Chennai Express (Released August 2013)
Starring: Deepika Padukone
Shah Rukh Khan
Shah Rukh Khan and Deepika Padukone pair is back on our silver screen once again after the 2007 blockbluster hit, Om Shanti Om. Not that we're a big fan of this pair, but they sure make the movie more sellable. Besides. some might be. Also this is the first time that SRK and Rohit Shetty (of Bol Bachchan, Singham, GolMaal 3 fame) have teamed up together. Their next venture together is already on the cards. Apparently they're going to do a remake of the 1982 classic comedy, Angoor.
So what is the movie about? We hear Chennai Express is about a man's journey from Mumbai to Rameshwaram in south and what happens along the way. And no, Shah Rukh Khan is not playing a south-indian, in fact, he's from Maharashtra. And yes, our SRK is playing his age, er, actually not his age, but close- he's playing a 40 year old man.
Needless to say, with big names like these, we have to keep it in our must-watch list.
Chennai Express that had already seized the record of being the fastest movie to reach the 100 crore mark after beating Salman Khan's 'Ek Tha Tiger' in its first week, also earned the new status of being in the Rs 300 crore club, now beating Amir Khan's '3 Idiots' that to date held the top grosser position. Along with the above mentioned three movies, Ranbir Kapoor's 'Yeh Jawani Hai Deewani' (again, with Deepika) is also in the Rs 300 crore club.
Fukrey (Released June 2013)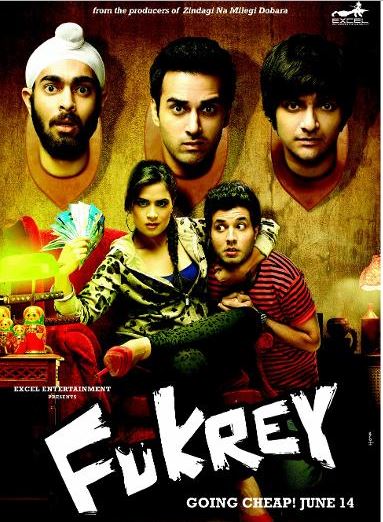 Fukrey' is directed by Mrighdeep Singh Lamba and stars Pulkit Samrat, Varun Sharma, Manjot Singh, Ali Fazal, Richa Chadda, Vishakha Singh and Priya Anand in the lead roles. Haven't heard of them? You may have. Pulkit Samrat was seen as Lakshya Virani in the popular tv show 'Kyunki Saas Bhi Kabhi Bahu Thi'. Ali Fazal was seen in the movie 'Three Idiots'- the student who sings the song 'Give Me Some Sunshine' and commits suicide. Manjot Singh played Lucky in 'Oye Lucky! Lucky Oye!'. Richa Chadda was also seen in 'Oye Lucky! Lucky Oye!' as Dolly and then again in 'Gangs of Wasseypur' as Nagma. Pankaj Tripathi was in 'Gangs of Wasseypur' Also. And remember Priya Ananad? She was played the born and raised in US girl in 'English Vinglish'.
The lead characters play loafers from Delhi with big dreams. Looks like the movie is not in the 'Dil Chahta Hai', 'Three Idiots' and 'Zindagi Na Milegi Dobara' league, but its' worth a watch for witty punch lines, talented cast, fast pace, good songs (especially 'Amabrsariya')and for just plain entertainment value. If you're a Punjabi, watch it for the 'bholi punjaban'. If you're from Delhi, watch it for the 'Delhi-lingo' and to revisit different parts of Delhi. If you're a fan of Farhan Aktar, you don't need us to recommend the movie to you.
And what does 'fukrey' mean you ask? "Fukre" is somebody who acts tough but is a chicken really. He's all talk and no show.
Bhaag Milkha Bhaag (Released July 2013)
The movie, starring Farhan Aktar as Milka, released on July 12, making 51 crores in the first week and grossing $ 1.4 million overseas, according to the box office. The director Rakeysh Omprakash Mehra had a hard time getting financial backup for this project as the non-formula biopics are not exactly a popular genre in the Indian film industry. After knocking different doors for 3 years, he started with producing the film on his own, but had to let go of 50 per cent of its rights to complete the film, according to TOI.
The movie is based on the true story of Milka Singh, the national champion runner and olympian who came to be known as the 'Flying Sikh' as he rose to great heights even in the face of immense personal tragedies.
Farhan Aktar has surpassed any other role that he as ever played in any other movie (and he has played every single of those roles to perfection). He talks, walks, sings and dances like any smart sardar you would have know (and you would have known quite a few if you grew up in Delhi or Punjab). His body language and expression reflects the age he played at each stage just right.
Madras Cafe (Released Aug 2013)
Directed by: Shoojit Sircar (of Vicky Donor fame)
Cast: John Abraham, Nargis Fakhri (of Rockstar fame), Jacqueline Fernandez (of Race 2 fame), Leena Mari and Rashi Khanna (new comer).
Madras Cafe is set in the back drop of the Civil War in Sri Lanka in the 1990s and involves all the players of the plot- the Indian Intelligence Agency- RAW, the LTTE, the war correspondents and of course, the Sri Lankan Army.
It's interesting to see so many non-resident Indians and in fact foreigners making it big in the Indian film industry. We hear that while Jacqueline is born to a Sri Lankan father and a Malaysian mother, Nargis has parents from Pakistan and Czech Republic.
According to India Today, Nargis refused the body double and insisted on doing the underwater action sequences herself, doing several retakes even.
After Vicky Donor, this is Abrams second stint at production.
The movie certainly has historical significance (even though facts are often distorted in movies) and so worth the watch. Also, because John Abrams, more often than not, delivers.
Ramleela (Released Nov 2013)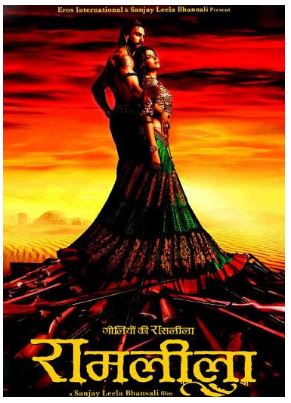 Please stay away from the movie:…If you don't like violence, gun portrayal in a very seemingly casual way, as you carry your phone or keys, and do not want to watch any kind of violence against women.
Please give it a chance:…..if you can discount the violence, over the top language, but like varied settings (antique jewelry, antique furniture, lots of lehengas and such)
The film is based on Romeo and Juliet and the plot did stick to a lot of the original narrative…Item song from Priyanka Chopra packed a punch but stay away if you are like me who is thinking about how they objectify women in the name of celebration ….None of the songs really came across as instant hits however, Deepika Padukone was powerful in the garba style dances.