Lion
Release Date: Nov 25th, 2016 (US)
Based on the book, A Long Way From Home, by Saroo Brierley, the film tells a true story about a young man of Indian origin in Australia sets forth to find his biological mother using Google Earth and fragments of his memory from when he was five.
ALL CREDITS FOR INFO & TRAILER BELOW GOES TO The Weinstein Company
CAST: Dev Patel, Sunny Pawar, Rooney Mara, David Wenham, Nicole Kidman, Abhishek Bharate, Divian Ladwa, Priyanka Bose.
Producer: Lain Canning, Angie Fielder, Emile Sherman
Director: Garth Davis
THE GOOD
1. The plot: It's a true story straight from the horse's mouth- so obviously it is nothing short of amazing! The memories that slowly creep back from when the young man was five to the part that Google Earth plays in re-uniting him with his birth mother- all adds up to a heart-wrenching story that you somehow relate to at every level- be it the plight of the mother that adopts or the one that gives birth only to lose the chance of seeing her child grow, the adopted child or the real son/ brother within. All emotions and
2. THE CAST: Dev Patel, in an appearance on NBC, talked about how he became athletic for the role to match the real-life Saroo and how he approached the producer up on learning of the movie. Well, he gave his absolute best to the role and did complete justice to it! He appeared to live, breathe and walk the part and didn't fall short in any aspect of it.Just as impressive was the young Saroo played by Sunny Pawar- the child pulled at your heart string without even trying. His demeanor, body language, dialogue delivery- all was effortlessly power packed.
Rest of the cast, Rooney Mara as Saroo's girlfriend, David Wenham as Saroo's adoptive father, Nicole Kidman as Saroo's adoptive mother, Abhishek Bharate as Saroo's biological brother, Divian Ladwa as Saroo's adoptive brother, Priyanka Bose as Saroo's biological mother- all did their part in making this real-life saga come to life. Deepti Naval as Saroj Sood, founder of the Indian Society for Sponsorship and Adoption (ISSA), and Nawazuddin Siddiqui have done well as guest artists.
3. The clothes And The Locations: You can't but help notice every single detail- the clothes, the hair styles, the locations- all capturing the time and the reality. The actual pictures of the real people at the end, adds to the amazement at the accuracy of character portrayal and location shots.
THE BAD ..
When a real life story unfolds right before your eyes in a manner that holds you both astounded and heartbroken, there is hardly ever anything that you find lacking- this one comes through for you.
OVERALL …
This is a must watch movie, whether in a theater or with friends, in your home-theater, and certainly include your kids, for this one is a definite family-watch!
HOW DID THE FILM FARE …
As per Box Office Mojo, the film grossed over $ 7 million in the US as of Jan 4 2017, since its release on Nov 25th.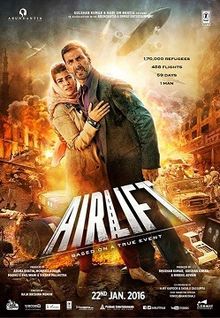 AIRLIFT
RELEASE DATE: January 22, 2016
The story is based on true events during Iraq's invasion of Kuwait.
CAST: Akshay Kumar and Nimrat Kaur (Reemember her from 'Lunchbox'?)

Production Companies – Abundantia Entertainment, Cape of Good Films, Emmay Entertainment, Hari Om Entertainment, T-Series
Directed by – Raja Krishna Menon
Distributed By: Prateek Entertainment
Costume Designer – Shweta Sharma
Music – T-Series.
The movie is based on true events that occurred when the Iraq, under the leadership of Saddam Hussein, invaded Kuwait in 1990, stranding 170,000 Indians in a war zone. From adversity rose a few good men, Sunny Mathews and Vedi, who joined hands to ensure the evacuation of Indians in the face of major obstacles. The Indian government came through for the Indian community and airlifted over 1,70,000 people with the help of 488 Air India flights during the course of 59 days. The evacuation went down in the Guinness Book of World Records for being highest evacuation by any civil airline till date. Akshay Kumar's character, Ranjit Katyal, is based on the two gentlemen. The movie, obviously has a lot going for it-
#1. The Story line- there are various versions already out as to how real or mixture of real Akshay Kumar's character truly is. However, that does not taketh away the fact that the movie's narration succeeds in telling the story of many Indians who found themselves out in left field during Iraq's invasion of Kuwait.
#2. The locations/ sets- the Ariel view of Kuwait before- and after it becomes a war zone are sure to touch you to your core. Shot in UAE, the scenes certainly live up to the movie that they are part of.
#3. The cast:
Akshay Kumar is subtle and real. His personality looks stunning. His facial hair, the obviously toned body, and expressions of the eyes- all speak of the hero within. This movie is yet another testament to the actor who rules in the kingdom of Khans. It is no surprise that when it comes to lead roles in movies like the likes of Airlift, Baby, Holiday, Gabbar, Special 26- its this Kumar and not Khan that comes to film makers' mind. And oh yes, role of Sanjiv Kohli by Kumud Mishra was my absolute favorite among others.
Full marks to the makers for casting Nimrat Kaur. In many ways, she reminds you of Akshay real-life wife Twinkle, but Kaur is very much her own person- a versatile actor who effortlessly molds into the role she plays- watch Lunchbox (if you haven't already) if you need proof. This 33-year-old is certainly in the Deepti Naval league.
Except for ..
#1. Had it not been based on true events. you would probably complain about its pace post interval, and seeming lack of progress. But it is and you won't.
#2. Since the original hero was a Mathews, it would have been nice to see a South Indian name given to Akshay Kumar's character. But, will have to agree, Ranjit Katyal has a nice ring to it, suits Akshay Kumar's personality and is heroic sounding.
OVERALL …
Airlift is an utterly educational experience. It educates you not only on the plight of Indians and Kuwaitis during the Iraq's invasion of Kuwait, but also forces you to ponder over many other related aspects as well. For instance-
1. when you look like an Indian, no matter where in the world you live, you are perceived as an Indian. Shows how important it is to stay connected to your roots. Or are we really okay to cut the cords, to assimilate? Perhaps the two doesn't have to be mutually exclusive or conflicting. Our root is an important part of our identity, we revere our mother land, but our adopted country is no less ours, if not more. WHAT DO YOU THINK?
2. that when adversity strikes, there are few among us mortals who rise up and take the role of a natural leader;
3. that in the end, those who watch out for fellow human beings irrespective of race or religion, are the ones that truly deserve to be consider themselves God's children;
4. that despite the bureaucracy and corruption known to be prevalent in the Indian government, it did and has at other times too, come through for its global citizens (Remember Operation Rahaat, meaning relief, in which Indian Air Force along with Air India and naval ships, evacuated more than 4640 Indian citizens and 960 foreign nationals of 41 countries during the Yemen crisis).
Airlift is an absoluete must watch movie. With your loved ones. Including children who are 10+. Miss this one NOT.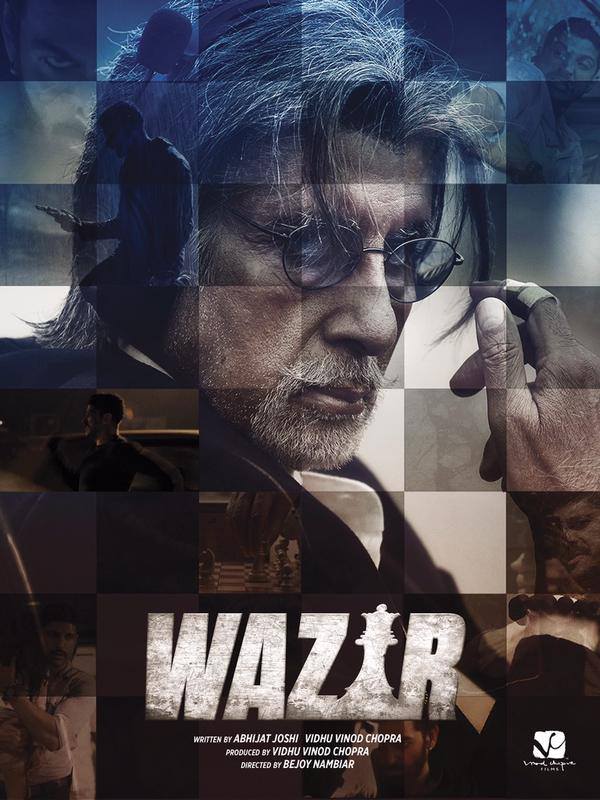 Wazir
CAST: Amitabh Bachchan, Farhan Akhtar, Aditi Rao Hydari, Neil Nitin Mukesh & John Abraham
RELEASE DATE: January 8, 2016
Written by – Abhijat Joshi & Vidhu Vinod Chopra
Produced by – Vidhu Vinod Chopra (Vinod Chopra Films)
Directed by – Bejoy Nambiar
Distributed By: Reliance Entertainment
Costume Designer – Shweta Sharma
Music – T-Series.
ALL CREDITS FOR INFO ABOVE & TRAILER BELOW GOES TO Vinod Chopra Films.
Wazir, meaning minister, is the chess piece that is more commonly referred to as the queen in English. Needless to say, the game of chess forms the pillar of the plot and many catch phrases originate out of the game as well.
WHAT'S GOOD?
#1. Cast
Farhan Aktar simply cannot be praised enough. For this movie and for every other movie that he has ever done. The 42-year-old actor molds himself for each role that he takes on in a very unique way. His clothing, his hair-cut, his body language- his entire persona participates in the performance that he sets out to do. He is fabulous in this movie in the role of a ATS (Anti-Terrorism Squad) officer.
Amitabh Bachchan can, of course, never give less than what the director demands. He clearly is a director's man, willing to go to any length to do his part. Kudos to him for being what he is- extremely talented, energetic and elegant actor.
Rest of the cast do exactly what they were expected to- play their part to perfection. Manav Kaul as the minister from Kashmir and Anjum Sharma as fellow ATS officer are excellent. Aditi Rao looks beautiful and conveys more with less. Neil Nitin Mukesh and John Abraham are impressive in guest appearance.
#2. Scenes
Every single shot/ scene in the movie is natural and quite simply put- nostalgia evoking in its simplicity for Indians living outside of India- the courtyard with green potted plants all around, the alley with concrete half-walls on both sides, the boats in Kashmir and more.
#3. Plot
The plot is interesting and intriguing- at first, in the beginning and then later, at the very end. In between it is so more in hindsight really. When the movie begins, you're all in, until you feel like that it seems to stray, lose focus with each passing hour. Luckily for the movie and for you, it winds up beautifully, each chess-metaphor falls in place, every lose end ties, leaving you impressed.
#3. Clothes/ Costumes
Farhan Akhtar's and Aditi's clothes are so well thought out that you have to mention this category. The neutral browns that Farhan has worn throughout the movie, the cut and the style- all seem quite literally tailor-made for the role. Aditi's casual anarkali suits during her Kathak rehearsals never go unnoticed – they stand out in the simplicity of the color and style.
And What's Not?
#1. Plot: Okay, I said that the plot is riveting in the beginning and leaves you astonished at the end, but getting to the end seems tedious at times as the pace is slow, albeit never boring. The plot appears to fall apart before it ties together. The characters give the impression of chasing irrelevant goals before its relevance clears in the end. Which is all good, except that the process has to be endured.
#2. Amitabh Bachchan's apperance – Amitabh Bachchan is handsome and elegant at 73. Whats with showing him half as good-looking and 10 years older than he actually is? You see this in Wazir, in Piku, in Bhoothnath. In Wazir, he is a father of a young girl, there is no reason for him to look shabby and 80. Desperate and handicap- yes, but unappealing and 80- no. If Farhan Akhtar is given a debonair image, why show Amitabh in better form? You see Amitabh during the end credits recording a song and the contrast shocks you. Let the man look his normal handsome self, for God's sake!
TO WATCH OR NOT?
If the movie had not ended so beautifully, I wouldn't even recommend it- largely due to the ample straying that it appears to do in the second half. But because the last 15 minutes are so well spent, because Farhan Akhtar looks so dashing, because Aditi's kathak costumes are so subtly elegant and because Amitabh's character carries the plot so expediently- I would say this is a good watch. However, if watch it at home, you'll be able to pause the movie at the right shots to point out what porch looks like in India, what scenes evoke nostalgia. Add it to your wait-for-Netflix list and hope it is showed their.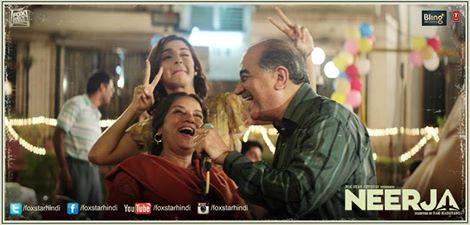 NEERJA
Neerja is a biopic drama on the courageous story of Neerja Bhanot, a 23 year old girl – an air hostess – who lost her life while saving passengers from terrorists on board the hijacked Pan Am Flight 73 on 5th September 1986.
Release Date: 19th February 2016.
Cast: Sonam Kapoor, Shabana Azmi, Shekhar Ravijiani.
Directed by: Ram Madhvani,
Produced by: Fox Star Studios and Bling Unplugged.
THE GOOD
1. The plot: Since the movie is based on a true story, obviously nothing about it is unrealistic. The heroic acts are kept pragmatic, yet awe-inspiring and heart rendering. The heroism is not blown out of proportion and the 'hero' is not given a larger than life image.
2. The cast: You might not think of Sonam Kapoor as a good actress, but here that is not as issue. I personally loved her work in Prem Ratan Dhan Payo, but here too she impresses. Not because her acting is excellent, but she really appears to not be acting- simply living Neerja Banot's life. Shabana stirs your soul as Neerja's mother. Every mother will relate to everything she says in the movie! (Pictures below, credit Neerja Movie FB Page)
3. The look: At first, you may think the shots and scenes lack high resolution clarity- that is until you realize that is probably to re-create the look and feel of the 1980s. Throughout the movie, the sets, the locations, the general ambiance take you to the India of 1980s as the movie switches back and forth between India and Karachi airport.
THE NOT SO GOOD ..
I love it when I have nothing to write here. This is one such movie.
AND OVERALL …
This is an ABSOLUTE MUST-WATCH movie with your kids over 12 years of age. The movie is hard to watch due to the hijack plot, no doubt, but the fact that it portrays a real story of immense courage lends it that not-to-be-missed status. Plus, go pay your tribute to Neerja Banot by know her story. You see a young woman, who fights her fears and shines in adversity. Her simple courage touch you and inspire you way more than 20 feet leaps and kicks of a typical Indian cinema's hero ever would. That is the power of biopic dramas. So glad this has become a trend in Bollywood now- thanks to which the story of Neerja has come forth, 30 years post her heroism.
When it gets hard to watch, remember- she lived it!
So What Happened To The Hijackers …
According to Huffpost, the four hijackers had planned to blow up themselves, and the plane, but they couldn't do so because the lights went out after 16 hours. They were arrested and jailed in Pakistan. Their death sentences were commuted to life imprisonment because they were Palestinian Muslims fighting for their homeland. While the others escaped, the lead hijacker, Zayd Hassan Abd al-Latif Masud al-Safarini, was handed over by Pakistan to the Federal Bureau of Investigation, the United States' FBI, in 2001. He was taken to the US in 2004 and sentenced to jail for 160 years. Around 50 survivors of the flight, along with family members of some of those who died, had flown down from five countries to attend the trial in Washington. Safarani is said to have apologized to them "from the depth" of his heart.
So How True Are The True Events?
The flight information, its path, the route, the details of terrorists (they were Palestinians from Abu Nidal organization) are all true.
As per India Today, Neerja Banot did hid and even threw away some of the American passports down the rubbish chute as she believed that Americans were at a greater risk of being the target of the terrorists.
Neerja Banot did assist several passengers to escape from the flight and finally did give her life while helping three kids from the bullets fired by the terrorists.
Neerja Banot did shout out the hijack code to warn the pit crew of the hijack.
The story of the passengers- the Indian American, the pregnant woman, the three kids, the radio operator, the British- are all true.
Neerja Banot received bravery award from the governments of three countries- Neerja received the Ashoka Chakra from the Indian Government, the Tamgha-e-Insaniyat from the Pakistan Government and the American Award for Justice from the US government.
However, according to Hindustan times, Nupoor Abrol, a crew member on board the same flight, says that the movie gave Neerja "undeserved adulation". Abrol wrote on Facebook, "Yes, truly a very difficult moment. But also a difficult moment for all those flight attendants to accept the movie for what it is unfairly propagating. Neerja was a wonderful person and I think even her soul today would cringe at taking this undeserved adulation. Not fair to the FA's who have in reality faced their ordeal!" The post was later deleted.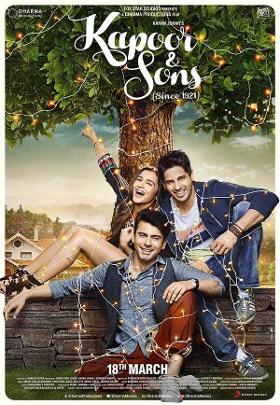 KAPOOR & SONS (SINCE 1924)
Released: 18th March, 2016.
A roller coaster of laughs, tears and emotions! Kapoor and Sons, a dramedy with soul.
Cast: Rishi Kapoor, Sidharth Malhotra, Alia Bhatt, Fawad Khan, Rajat Kapoor and Ratna Pathak Shah.
Directed by: Shakun Batra
Produced by: Hiroo Yash Johar, Karan Johar & Apoorva Mehta
Distributed by: Fox Star Studios
HE GOOD
1. The plot/ pace: This one is another exploration of relationships- between siblings, husband and wife, with aging parent and of course, the romantic kind. The movie kind of reminds you of Dil Dhadhakne Do minus the glamour as here a regular middle class family take the center-stage in the plot which is actually very refreshing and realistic. The different angles/ perceptions have been dealt with extremely delicately and in great depth without unnecessary dwelling over issues. The movie instantly gets your attention when it starts with the family scene (Rajat Kapoor, Ratna Pathak, Rishi Kapoor), the handsome young men (Sidharth Malhotra, Fawad Khan) and the lush green rustic neighborhood. However, the pace slows down a little before catching your interest again. Full marks to the makers for the way it winds up, leaving you crying for most parts!
2. The cast: The cast of the movie deserves a good hard pat on the back. Rishi Kapoor proves once again that he is a superb actor. At this age, he is repeatedly proving that he is as good an actor as Amitabh Bachchan, even though he was often his side-kick in younger days. I have been consistently impressed by his recent performances- D-Day, Besharam, Chasme Baddoor and more.
Rajat Kapoor is always so natural and absolutely realistic. Loved him from his very early films like Dil Chata Hai, Monsoon Wedding and recent one like Drishyam. Ratna Phatak nails it as a mother, wife and daugher-in-law. She always does.
Moving on to young generation, Sidharth Malhotra and Fawad Khan are both among the top talented young men. We might not have like Khoobsurat, but we loved Fawad Khan in it. And Sidharth- we always do too. They have both aced acting without "acting". That takes us to Alia Bhatt. The young actress needs to realize that she is already full-on cute, she doesn't need to "act" cute too. She appears to try too hard in the film. Would have come out better had she toned it down a bit.
3. The look: The general look and feel of the movie- the sets, locations, characters, clothing- are all excellent.
THE NOT SO GOOD ..
Except for a rather slow pace in the middle, the movie is created well and plays out very artistically.
AND OVERALL …
This is a good watch with your spouse and even kids 17 years and older. There are no adult scene or dialogue per say, so younger kids will be okay to enjoy the songs and the dance. Won't call it a comedy, but there are good comic moments! A perfect movie to recommend to your American friends who have been curious about Hindi films cause this one addresses all global issues in relationships.
KI & KA
Cast: Kareena Kapoor, Arjun Kapoor, Swaroop Sampat,& Rajit Kapur. Amitabh and Jaya Bachchan in cameo appearance as themselves.
Written & Directed By: R.Balki (of Cheeni Kam, Paa, English Vinglish fame)
Produced By: R. Balki
Music By: Ilaiyaraaja & Ankit Tiwari
(All Credits For Movie Info Above And Trailer Below Goes To: Eros Now.)
THE GOOD
1. The plot/ pace: Once in a while a movie comes along that hits the nail right on the target- this is one such movie. The plot of the movie, that of a career- minded- ambitious wife and a stay-at-home husband, has been presented to the audience in a beautiful & elegant wrapping but the package within has been handled with just as much beauty and panache. Just when you think there is no other way to lead the movie than to indulge in same old emotional relationship drama, the very modish situations surprise you. At no point do you take the movie for granted, never does the plot slacken, and it never drags. The humor is excellent, you laugh good hearty laughs, but the dialogues impress even more- they are a series of "oh, yeah, that's how it is"- the kinds which causes the dawn of realization in not just men but women too.
2. The cast: If there is anything more impressive than the plot, it is the cast of the movie. Kareena Kapoor gets a 10 on 10 for this one- this is exactly the kind of movie that Hindi Cinema should be churning out for 35+ married film actress for these do complete justice to the talent-house that Kareena, Kajol, Rani are all about. Dilwale in comparison was a farce where Kajol is cast, but made to play half the story as her young avatar.
Arjun Kapoor- again 10/10. This ultra talented young man looks totally natural in every single scene and his chemistry with Kareena is just as natural. In real life, the two are 1985 and 1980 born respectively and in the movie they play 1985 and 1988 born. Close enough. Talking more on their chemistry, they have given some bold scenes that completely blend with the theme and the talent. Nothing about them is out of place, out of sync. Kudos to Saif Ali Khan, the real man in Kareena's real life – for accepting that his wife is a professional actress, in spite of being a Khan.
Swarup Sampat, Rajit Kapur and all the Delhi women in the neighborhood were perfect for their respective roles.
Finally, casting Amitabh Bachchan and Jaya Bachchan in a cameo role, playing themselves, was a touch of genius by the film-makers. Especially considering that Jaya is known to have given expert comments to the couples in the industry. The duo looked elegant and with stunning screen-power!
3. The look: The general look and feel of the movie- the sets, locations, characters, clothing- are all excellent, but it is the apartment that takes the award for most beautiful apartment set ever created in the history of apartment set creation in the world! The theme, the colors, the decorative ensemble- every detail takes your breath away.
THE NOT SO GOOD ..
Seriously, nothing comes to mind. Well except perhaps, Delhi's "tu"-tadaka Hindi (style of talking) didn't quite suit Kareena's sauve image, even though she is a Punjabi and plays a Delhi gal too.
AND OVERALL …
This is a must watch with your spouse and even kids 17 years and older. There are no adult scene or dialogue per say, so younger kids will be okay to enjoy the songs and the dance.
The movie leaves you constantly discussing various nuances of a husband-wife relationship, of the money-maker and the money-consumer relationship, and beyond too. Like I said earlier, there are many a dialogue that stumps you- for role reversal might sound predictable, but it truly jolts you into realization.
Again, yet another perfect movie to recommend to your American friends who have been curious about Hindi films cause this one addresses all global issues in relationships as well (also see review for Kapoor & Sons). The movie is playing in many AMC theaters, so be sure to check where before recommending.
Latest Update:
The movie recorded the third highest first week box office collection as per media reports. Akshay Kumar's "Airlift" and Fawad Khan and Sidharth Malhotra-starrer "Kapoor and Sons" are first and second respectively.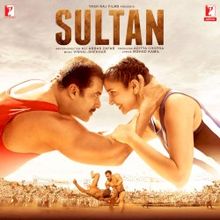 A classic underdog tale about a wrestler who makes a comeback defeating all odds staked up against him, Sultan's journey will bring alive his heartfelt love story.
Movie Credits:
Release Date: July 6th 2016
Starring: Salman Khan and Anushka Sharma
Directed by: Ali Abbas Zafar
Produced by: Aditya Chopra
Costume Designer: Alvira Khan Agnihotri, Ashley Rebello and Leepakshi Ellawadi
All Credits For Movie Info Above And Trailer Below Goes To: YRF
THE GOOD
1. The plot: The plot is good. It is interesting to see the idea of making professional wrestling league popular in India as the starting point of the movie. The Pro Takedown founder and his efforts have been projected well. The Harayana man, a village wrestler, makes an interesting centerpiece in the plot as well. The language, the clothing, the attitude- all work well together- perfectly! Add to that a Haryanawi woman whose dream it is win the gold medal for India in the olympics, and you get your Hindi movie masala- but hey, the mix works and we're complaining. What we are complaining about, you'll see in 'the not so good' part of the review.
2. The cast:
Anushka Sharma's role cannot have been done better than it is by anyone else. She looks young, vibrant and keeps all eyes on her in every screen that is in.
I feel the supporting cast provide a definite feel-good status to the movie. In that, Amit Sadh in the role of the founder of Pro Takedown has done his part. He appears to be the perfect mix of young and enterprising with just enough heart to care about his client and just enough desi tahzeeb (Indian tradition) to listen to his father. Also, Anant Vidhaat Sharma as Sultan's friend stands out in the supporting cast. He is another young and talented actor that we hope to see in more movies henceforth. Randeep Hooda is always good, always lending unique element to every character in portrays. Even the pehalwans (local wrestlers) and the international wrestlers do their part in adding elements of reality and professionalism to the making of the movie.
Now coming to our main man, Salman Khan. We have seen him take off his shirt more times than we care about. Here, as a wrestler, he is seen without his pants as well. Got to say, he has certainly maintained his body well. There is no denying it. He looks way better than Aamir Khan did in Dhoom 3 (in spite of the well-built body for the part). As for how whether he delivers or not- yes, he does. More as the older 40+ man than his supposedly younger version in flashback. His fans will certainly not go home disappointed. But … yes, there is a but …(see in 'the not so good').
3. The look: The general look and feel of the movie- the sets, locations, characters, clothing- are all excellent- like many other good movies. But the Haryana angle is unique and very refreshing, even though it has been done before (in Tanu Weds Manu Returns, 2015). The village scenes make you yearn to see a swaach Bharat (clean India) in reality soon (hopefully Modi's campaign will do wonders and it will be a dream materialized post 2019 as per the campaign target). The world of professional wrestling have been deftly portrayed- the sets, costumes as well as the players. The actual wrestling matches are done well- clearly bringing out the skill and the strength required, the difference in agility with age, and the sheer perseverance that takes you to the finish line.
THE NOT SO GOOD ..
1. The pace: The movie is extremely slow. A little editing, make that a lot of editing, would have gone a long way.
2. The pair: The lead pair in the movie needs to be discussed as just that- a pair. Although, Salman and Anushka have both done a good job, their vast age difference looks ridiculous. To pair a 50-year-old actor against a 28-year-old actress is ludicrous. Nothing more needs to be said in support of that argument.
2. And what's with?: And what's with showing the woman getting pregnant and giving up her dreams for her "man's happiness"? Since the story-line is fictional, might as well be inspirational- especially if the goal is entertainment rather than realistic portrayal.
AND OVERALL …
Overall, the movie is slow but a family entertainment package. Every actor has done his/her part, but the age-difference in the lead pair stares at you There is something very touching in the husband and wife relationship, but the pairing is farcical. If you are willing to endure the slowness, and overlook the absurdity in pairing, this would be a must-watch movie, musically too- you'll most certainly be twirling to the tunes of "Baby Ko Bass Pasand Hai" and swooning on "Jag Ghoomeya". And yes, you'll get good amount of laughter during your viewing experience too.
The movie has recorded over Rs. 500 crore at the international box office, making it the fifth highest grossing Bollywood film ever. The movies preceding are- Dhoom 3 (Rs 542 crore), Baahubali (Rs 600 crore), Bajrangi Bhaijaan (Rs 626 crore) and PK Rs 792 crore), in that order, as per news from India.
A story set in the pre-historic Indus Valley, in 2016 BC.
Release Date: Aug 12th 2016
Cast: Hrithik Roshan, Pooja Hegde, Kabir Bedi
Directed by Ashutosh Gowariker
Produced by UTV Motion Pictures and Ashutosh Gowariker Productions
SEE THE MOVIE IF….
1. If you are completely besotted with period movie, for this movie takes you to one of the earliest known civilization to mankind- the Indus valley civilization of Mohenjo Daro and Harrapa. And yes, it does do ample justice to the prehistoric period via the sets and the costumes, incorporating whatever little is know about the artifacts from the era. You will endlessly stare at the boats of the time, the goods exchanged, and yes, the artifacts known from the civilization. As per Times Of India, Karen Goulekas of The Day After Tomorrow and 10,000 BC fame was brought in as visual effects supervisor for the film. The effort is clearly evident and visually appealing.
2. If you have the patience to somehow tolerate the first half, after the opening scene, that is (opening scene is strikingly beautiful, the action amazing and the location- picturesque). The second half keeps you agog and enthralled. You feel in awe as if getting a spectacular glimpse of perhaps what the ancient civilization possibly looked like, no matter how fictional the portrayal, for it opens the dam of your imagination and wonderment. The closing sequence of events having been portrayed with amazing details and provide an enchanting ending, leaving you with an avid interest in ancient history.
3. If you are a Hrithik Roshan fan. Hrithik has done a good job- as was intended, he appears lithe and agile, rather than muscular (as quoted in Stardust by the UK based trainer Joshua Kyle Baker who was brought in to train Hrithik for the role). He obviously impresses with his body, the way the costumes fall over his tanned and toned torso, which incidentally is hairy in keeping with the times. No, he is never shirtless in the movie, which shows that the producers didn't want to exploit his body- at least that's my premise. Otherwise, how easy would it have been to show a bare-chested man in the prehistoric era? In fact, I would have thought that would be totally in keeping with the times as well.
WHAT'S BAD ABOUT THE MOVIE..
1. Hrithik's hair- Now, I have no idea what style did men sport during the period, but it certainly couldn't have been Hrithik's current hair-do- no matter how much fashion repeats itself. No other man's style stuck out like a sore thumb.
2. Large age difference between the lead male and female actors is a certain turn-off for me. At 42, Hrithik looked older by the screen, while at 25, Pooja looked younger with each shot until finally the romantically paired duo looked like a father-daughter pair. From the makers of Jodha Akbar of 2008, this love story is barely even that, lacking any chemistry whats so ever, not even remotely close to the fire Hrithik and Ashwariya lit in the former.
3. Like I said, the first half, baring the opening scene, was painstakingly jejune and vapid. It remained stodgy right until the intermission. No, even the ancient era did nothing to perk up my interest.
OVERALL …
Go watch it if you feel your ardor for period movie can sustain you through the lackluster first half before the second half catapults your interest back to the earliest civilization and leaves you wanting to research more … And as Indian Express puts it, "we need to remember that whatever we do know about Mohenjo Daro is perhaps as much an imagination of the historian as that of a filmmaker who depicts it in visual terms".
Yes, you may take your kids if they are patient, curious and show a passion for period drama.
Release Date: 28th October, 2016.
Starring : Ajay Devgn, Sayyeshaa, Erika Kaar, Abigail Eames, Vir Das, Girish Karnad, Saurabh Shukla .
Produced by : Ajay Devgn, Dhaval Jayantilal Gada, Shreyans Hirawat
Directed by : Ajay Devgn
Music : Mithoon
Action thriller, Shivaay is finally the movie that is completely at par with any Hollywood production in terms of the stunning action sequences, the locations, the cast and even the plot.
The good-
#1. The plot: The plot is gripping, never losing your attention once it catches it. The plot weaves together the incredible locations, the international cast and the jaw-dropping action incredibly well. You ride the ups and downs with the characters, never leaving their side.
#2. The cast: The very international cast is noticeable from the very beginning, even the local Nepalis/ Eastern Indians add to the intrigue in the diverse cast. Ajay Devgn himself has done an awesome job, that doesn't surprise you. He stands out as the star and impresses as always-with his immense talent.
#3. The locations: The locations, both in India and abroad, are totally spell-binding. Much is talked about the below freezing temperatures that the crew faced while shooting in Bulgaria. Mussoorie looks just as interesting.
The Not So Good …
#1. I am a huge advocate of closer-to-age pairing that is more often than not lacking in Hindi movies, especially with our 40+ favorite actors like the Khans, Kumar, Roshan & Devgn (Chennai Express, Prem Ratan Dhan Payo, Gabbar Is Back, Drishyam, Mohenjo Daro, Rustom- to name a few). In fact, we wanted to ask Ajay what brings this on during the Meet the Devgn event during the couple's recent US tour, but didn't quite get to. The 1988 born Erika Kaar looked really young against our 1969 born stud Devgn, however, I'm willing to overlook the age difference here for two reasons-
a. The story line justifies it and like I say, if you have to cast a young actress, at the very least show some justification.
b. While Erica plays her age, Ajay does pass-off convincingly enough as been about a decade older than her.
So, lets say, we're all good- or at least almost good since the fact remains that the top film makers must take greater responsibility of casting talented women well over 30 years of age in Indian productions (and make the plots work).
#2. The first quarter of the movie appears a tad bit prolonged, but then isn't that in keeping with our Bollywood romance angle?
Overall-
Shivaay comes closest ever to a Hollywood production churned out by a Hindi film production house. In fact, it completely achieves that height. Again, the plot, the action, the locations and the cast do complete justice to the intent of the film. Combine that with the traditional sprinklings in the form of Sanskrit sholakas (hyms) and the strength of the Hindu deity Shiva, and the outcome is intriguing and interesting. The movie is gripping and an absolute must watch. Absolutely take your teenage kids to watch this, and be sure to have tons of conversation on the subject (will not spoil it for you by giving away the plot).
How did it fare?
Shivaay released the same day as Ae Dil Hai Mushkil, a Karan Johar production, so needless to say the competition has been tough. However, despite that, the movie has done fairly well, raking in a worldwide gross of around ₹127 crore, as against Ae Dil Hai Mushkil that has become the second biggest worldwide grosser of the year (after Sultan) with business of 223 crore gross till now, as per Box Office India.
Shivaay is at number 9 (following Rustom, Airlift, Housefull 3, M.S. Dhoni – The Untold Story, Fan and Kapoor & Sons) and will finish with around 130 crore worldwide.
We say, 9th versus 2nd is misleading. Shivaay is any day a much better watch than the never-ending saga on friendship/ one-sided love that is Ae Dil Hai Mushkil.
KAHAANI 2- Durga Rani Singh:
If you loved the first Kahaani, which you most likely did, this one is right up your alley. A thriller that keeps you interested.
Suspense thriller, Kahaani 2, is exactly that- a suspense thriller. And if you were enthralled by the first one, the second in the series will leave you just as captivated
Release Date: 2nd December, 2016.
Starring : Vidya Balan, Arjun Rampal, Tunisha Sharma, Naisha Khanna, Jugal Hansraj
Produced by : Sujoy Ghosh, Jayantilal Gada
Directed by : Sujoy Ghosh
Written By : Sujoy Ghosh, Ritesh Shah
Story By : Sujoy Ghosh, Suresh Nair
The good-
#1. The cast: There is no second guessing how good Vidya Balan has executed her role. Anyone who has seen the previous one in the series (2012), or her Dirty Picture (2011), or her Paa (2009) or Parineeta (2005) or any other film of hers for that matter would know that she is never short of perfection. I would say the same for Arjun Rampal as well. I am a huge fan of his and he has earned every bit of that admiration. Jugal Hansraj has surprised those who didn't quite credited him with talent, including me.
Apart from the leads, the supporting cast have molded themselves to the roles in a way that is expected in movies that clearly rise to levels beyond the average normally spurned out in film capital of India. Naisha Khanna as the child Minni, the cops, Manini Chadha as Arjun Rampal's wife- they have all contributed to this very fine production.
#2. The plot: Again, kudos to the story writer to once again raise a issue that is shoved under the rug, kept hushed and never discussed publicly in India. In the interest of keeping this review spoiler-free, I will not reveal the plot. Suffice to say, the issue is woven into the fabric of the movie in a way that both raises awareness and keeps you riveted.
#3. The set & costumes: Vidya Balan's entire look wins the best characterization award. Her whole get up in every frame literally forces you to notice every aspect of it- the makeup-less face, the saree or the very ordinary salwar-kameez and last but not the least, the absolute award-winning outfit was the long cardigan- over- kurta look complete with frizzy-curly- tied- back hair! It take guts to sport the look, and Vidya Balan is the epitome of courage. Prepare to be amazed at her character and the clothing in every shot. Of course, In fact, got to give a good pat on the back to the producer/ director to have the good sense of not casting somebody with skinny/ slender frame. Arjun Rampal's chiseled frame never goes unnoticed. The same can be said about the very ordinary city lanes and buildings that you mostly see in the film.
The Not So Good …
#1. Some might call the plot dark, few of the settings devoid of sufficient lighting that helps to enhance the darkness.
#2. The suspense aspect of the film is not as high as the original Kahaani in the franchise. Some probably even expected the "twist".
Overall-
The movie justifies been given the status of a sequel to the first Kahaani in the series. Apparently there were talks of the movie releasing as Durga Rani Singh with Aishwarya Rai Bachchan playing the lead, as per an article in Indian Express back in October 2015, the makers going with Kahaani franchise after seeing the similarity in suspense aspect. Personally, I like the exposure the film gives to the very real and painful issue that ends up being at the core of the plot (again, refraining from giving details in the interest of keeping the review spoiler-free). Certain issues have been neglected far too long in India, issues that get front and center attention when out of the box thinkers make off beat movies with these as the underlying themes. This is a good one to watch with your husband, even though you will be okay to wait to watch on Netflix.
Release Date: Dec 23rd 2016
Dangal is an extraordinary true story based on the life of Mahavir Singh and his two daughters, Geeta and Babita Phogat. The film traces the inspirational journey of a father who trains his daughters to become world class wrestlers.
ALL CREDITS FOR INFO & TRAILER BELOW GOES TO UTV Motion Pictures.
CAST: Aamir Khan, Sakshi Tanwar, Fatima Sana Shaikh, Sanya Malhotra, Zaira Wasim, Suhani Bhatnagar
Directed By: Nitesh Tiwari
Written By: Nitesh Tiwari, Shreyas Jain, Piyush Gupta, Nikhil Mehrotra
Produced By: Aamir Khan, Kiran Rao & Siddharth Roy Kapur
Music: Pritam
Costume Designer: Maxima Basu
Wrestling Choreography and Coach: Kripashankar Patel Bishnoi
Since Dangal tells a true tale of a father who dreams big for his daughters, Dangal was declared tax-free in four Indian states — Uttar Pradesh, Uttarakhand, Haryana and Delhi — to promote Beti Bachao (stop female infanticide/ foeticide), and Beti Padhao (educate the girl child), campaigns by the Government of India.
THE GOOD
1. The plot: A father who dreams of having a son who would go on to win a gold medal in the Olympics….. except he goes on to father three daughters…. before realizing that his daughters are capable of full-filling his dreams …. and it is their goal to achieve! What an interesting plot! To top that, it is actually a real story that not many had heard of prior to watching the film. Wonder how is that even possible? Where was the Indian media when India's first female wrestler won the 2010 Common Wealth Games. We know how much coverage a story like this would have gotten in the U.S. media.
2. THE CAST: For how many films have we said that Aamir Khan has done his best film to date (okay we didn't say that post Dhoom 3)? Well, we have to say it yet again. And please don't make it about him being a Muslim actor. Lets openly acknowledge and shower accolade not just for his acting but for the form he built for the role- his very wide frame (with or without the belly bulge) was a perfect fit for the forgotten champion that he portrayed. It is by now, a well known fact that Khan gained some 30 kgs to play the older Phogat and then lost the extra kilos to play his younger version (youtube videos telling the story have gone wild).
Rohit Shankarwar, who plays their cousin in the first half, especially catches your eyes! The kid has got talent and a natural flair for humor too!
Sakshi Tanwar, hitherto known for TV serials, has done well for herself and for the film as Phogat's wife.
Coming to the stars of the show- Zaira Wasim and Fatima Sana Shaikh as the younger and the older versions of Geeta Phogat has impressed beyond words! Their command of the Haryanavi dialect, their body stances, wrestling skill set- all leave you open mouthed. Real-life Babita's two avatars have matched the high bar effortlessly as well. Suhani Bhatnagar leaves a mark despite the strong cast presence all around.
Even Vivan Bhatena, in few short scenes, has done his part.
3. THE CLOTHES, THE LOCATIONS AND THE ACTION: Perfect, simply perfect and absolutely perfect – enough said on that. Full marks to Costume Designer, Maxima Basu and Wrestling Choreography and Coach, Kripashankar Patel Bishnoi. The wrestling match shown in a small office space in the beginning of the film totally blows your mind. The same holds true throughout the length of the film- the nifty techniques, the awe-inspiring talent- all brimming with consummate elegance!
4. THE MUSIC: Easily helped in making lighter of some of the intense scenes …and sounded excellent.
THE BAD ..
I will repeat what I said for Lion before this- When a real life story unfolds right before your eyes in a manner that holds you both captivated and motivated at the same time, there is hardly ever anything that you find lacking- this one comes through for you- in more ways than you can imagine. All that said, guess would have been even nicer to see some toned biceps on the young athletic women…
OVERALL …
THIS IS NOT JUST ANOTHER WRESTLING MOVIE. In case you have kept away from the theaters because you saw Mary Kom (2014) and because you saw Saala Khadoos (2016), don't spend another day away harboring that notion. For this is just not just another wrestling movie (granted Mary Kom was a boxer, agree Saala Khadoos is a fictional story). We allowed our kids to convince us that they have watched enough of such success-in-sports-kind-of-inspirational-stories. Big mistake! We would have regretted it throughout the film, except that the movie holds an extremely tight grip on you, not permitting your mind to wonder anywhere except through the lanes and by-lanes of Haryana on the screen. The movie offers so much more than another sporty saga- quite a lot of food-for-thought as you reaffirm the role of guru, his guidance, your skill but even more importantly your focus, strategies of success and above all- an undying faith and a willingness to go over and beyond for your goals. So yes, watch it, and don't leave your kids behind- no matter what they say!
In fact the movie was so good that we recorded a zero on the yamn-o-meter (my husband records at least 3 in most movies). Plus, we forgot all about the little cashew packet that we snuck in to the theater in our pocket (and believe me when I say we love snacking while watching)- that's how gripping the movie was!
HOW DID THE FILM FARE …
As per Trade analyst Taran Adarsh- "#Dangal is heading towards ₹ 375 cr mark… [Week 4] Fri 1.94 cr, Sat 4.06 cr, Sun 4.24 cr. Weekend 4: ₹ 10.24 cr. Total: ₹ 370.11 cr.". The film has also bagged big titles in the Filmfare Awards- that of "Best Film of 2016", "Best Director" (Nitesh Tiwari), "Best Actor-Male" (Aamir Khan)
HOW TRUE IS THE TRUE STORY?
( …here lies the spoiler zone … enter at your own risk …).
As per an article carried in TOI, Mahavir Singh Phogat, a Hindu Jat from Haryana has 4 daughters, Geeta, Babita, Ritu and Sangita, and two nieces- Vinesh and Priyanka, children of his brother who was killed in a dispute of land. All the 6 Phogats are trained in wrestling by Mahavir. While Geeta, Babita and Vinesh are international players, having won Gold, Bronze and Gold medals respectively in Common Wealth Games (in 2010, 2014 and 2016 respectively), Ritu has won a gold medal at the national championship and Priyanka and Sangita have won medals in age-level international championships. Apparently, the real Phogat did want daughters- in a State were males are the desired gender of off springs. The couple have 4 daughters and one son- the last one. The article also mentions that ironically, it is the girls of the family who have done well, not the boys. Three boys from Mahavir's extended family- his wife's nephew, Vinesh's brother, and his younger brother's son had joined his training sessions, but they couldn't take the strict regimen and rebelled, or had to drop out because of injuries.
Also, as per an article on HT, the real Phogat was 10 times more strict than the father portrayed by Aamir Khan. According to the same source, Sakshi Malik became India's first woman Olympic medallist at the Rio Games, but Vinesh Phogat's Rio medal hopes ended in tears and agony after she suffered a freak knee injury during the quarterfinal bout against China's Sun Yanan in the 48kg category.
As for the nail-biting finishes, the straying of focus and the final miss – all drama for effect, we hear.