Sravi Wadawadigi has a delicious spread planned for you for the coming week. Follow her and do please give your feedback BEFORE and AFTER trying out her recipes. Got questions? Do please ask.
MONDAY MENU
Pineapple Kadhi
Serve with White Rice
1Can Pineapple chunks
1 can Coconut milk
1 tbsp coconut powder
Salt to taste
turmeric
Red chili powder
Jeera
Green chilies
Boil Pineapple with salt, turmeric, chili powder. Add coconut powder, coconut milk, chopped green chilies and add Jeera as seasoning.
TUESDAY MENU
Eggplant Peanut Gravy Curry
Serve with Parathas & Yogurt
Ingredients Needed:
Brinjal – 250 gms
Onions – 1 big
Garlic – 4 cloves
Tomatoes – 2 medium
Red chili powder – 1 tsp
Coriander powder – 1 tsp
Turmeric powder a pinch
Salt to taste
Roasted peanut powder – 3 tsp
Water as required
For tempering
Oil – 2 tsp
Mustard Seeds, Urad dal – 1/2 tsp
Curry leaves
How to make the Brinjal Curry
Wash and cut into long pieces, soak in water until usage.
Heat a non stick pan with oil, temper with mustard, urad dal, curry leaves.
Then add garlic, onions, saute well. When the onions turn color, add finely chopped tomatoes and simmer.
Now add salt and turmeric powder for the tomatoes to get mushy.
Once it turns soft, add drained brinjal pieces. and saute well.
Add chili powder, coriander powder and simmer with lid covered for 10 mins till the brinjal turn soft.
Now add water and bring to boil.
Finally add peanut powder and bring to boil.
Garnish with coriander leaves and serve with rice, roti.
WEDNESDAY MENU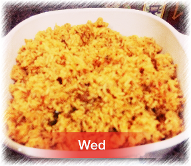 Tomato Rice
Serve with green salad
Tomato Rice Recipe
2 cups Rice
10 tomatoes
2 Spoons Tamarind paste
3 tbsp Vaangibhaat Masala (Readymade)
Salt to taste
Turmeric
Hing
Curry leaves
Peanuts
oil
Cook the Rice in rice cooker with 1sp of salt and little oil. Put 2tbsp of oil in a pan, add hing, mustard, jeera, urad, chena, peanuts, curry leaves. Add finely chopped tomato to it and let it cook till it becomes this paste. Add tamarind paste and salt to taste. Mix the rice to this thick paste and add masala powder and mix it well.
THURSDAY MENU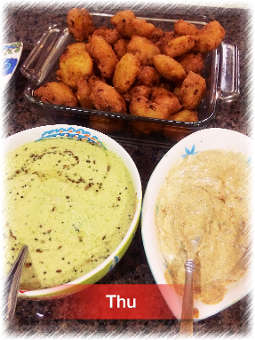 Chana Dal Vada
Serve with coconut chutney/ peanut chutney
2 cups Chana Dal
8 green chilies
2 onions finely chopped
1 tbsp Rice Flour
Salt to taste
Jeera
Oil to fry

Soak Chana dal for one hour. Grind it with green chilies to granules. Mix the rest of the ingredients and make a thick paste. Make vadas and deep fry in oil. This can be served with coconut chutney.
Bonus – Desert!
Sweet Pongal – This dessert is made especially during Sankranthi/Pongal festival
Ingredients
» 1 cup Raw Rice
» 1/2 cup Green Gram Dal
» 1 cup Milk
» 3 cups Jaggery (powdered)
» 4 tbsp Ghee
» 2 tbsp Cashewnuts
» 2 tbsp Raisins
» 5 no Cardamoms (powdered)
» 2 no Cloves (powdered)
» 1 small piece Nutmeg (grated or powdered)
» A pinch of Saffron
» 2 1/2 cups Water
Recipe
1. Roast dry the green gram dal for a couple of minutes. 
2. Cook the rice and green gram dhal with 2 1/2 cups of water and 1 cup milk in the microwave and set aside. 
3. Dissolve the jaggery in 3/4 cup water and cook on a low heat till the jaggery melts. 
4. Put the syrup once more on the heat and stir till it becomes slightly sticky. 
5. Add the cooked rice and dhal. 
6. Heat the 4 tbsp ghee. 
7. Fry the cashewnuts and raisins and add to the pongal. 
8. Add the powdered cardamoms, cloves nutmeg and saffron.
9. Mix well and serve hot