(Geeta is a mother of two teenage daughters, both of who love good gourmet food. So of course, Geeta cooks delicacies that is pleasing to the most refined palate. Here are her quick fixes for the week)
Monday Menu: Shrimp Taco
Ingredients:
Shrimp- peeled and deveined shrimp (frozen or fresh) (about 20-25 medium shrimp pieces for 4 people)
Soft Tacos (flour tortillas or any tortillas of choice, about 8 to 10)
Salsa
Sour Cream
Guacamole salsa (either readymade or recipe below)
Mexican grated cheese (packet)
Shredded Lettuce
Mayo (1/2 cup)
For Marinade- Chipotle peppers in adobo sauce (1 tsp from can) or chilli pepper, minced garlic, black pepper, cilantro, lime juice, taco seasoning, cumin pwd and salt.
Recipe:
Marinade the shrimp for 1/2 hour.
2. Either grill or cook the shrimp in oil on each side for 3 mins till it turns orange.
3. Warm the tortilla. Spread spicy mayo (mayo mixed with 1 tsp of adobo sauce in 1/2 cup mayo- or to taste. Put shrimp (3-4 per taco). Add lettuce, salsa, cheese, sour cream. Fold and serve.

Guacamole salsa: Take 2 ripe avacados, peel. Cut and remove the pit. Mash it. Put in half chopped tomatoes, half red onion chopped, 1 jalapenos finaly dices, chopped cilantro, lemon jiuce and salt and pepper.
Tuesday Menu: Chicken Curry: (Serve with Roti or Naan)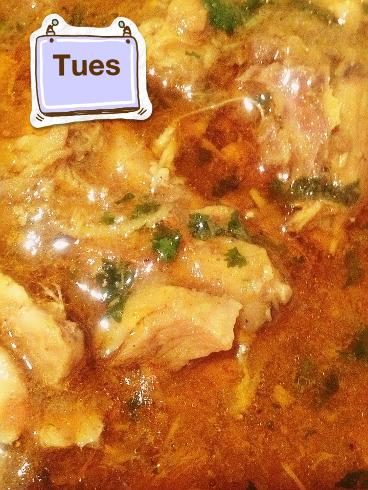 Ingredients: Cut Chicken pieces (1 lb for 4 people), 2 medium Onions, 3 medium Tomatoes, 4 Cloves, 1 small piece Cinnamon, 1 Tbsp Coriander seeds, ½ tsp Fennel seeds, Coriander leaves, 2 Green Chilies and dry Masalas (1 tsp Haldi, 1 tsp Chili pwd, 1 tsp Jeera pwd, 1 tsp Garam Masala pwd – adjust to taste)
Recipe:
Marinate chicken pieces with ginger-garlic paste, salt and turmeric pwd.
In a pan,
+ 4 Tbsp Oil
+ Bay leaves (2-3)
+ Finely chopped onions
Brown it.
+ Masala (cut Tomatoes, 4 Cloves, small piece Cinnamon, 1 tbsp Coriander seed, 1/2 tsp Fennel seeds, small fresh Coriander leaves, 2 Green Chilies – all ground together)
Roast till oil separates on the sides.
+ Dry Masalas (Haldi, Chili pwd, Jeera pwd, Garam Masala pwd)
Roast again for 2 mins
+ marinated chicken pieces
Fry for 10 mins
+ 1 to 1/2 cup water
+ salt to taste
Cover and cook for 20-25 mins until chicken is tender and cooked.
Optional – 1/2 cup coconut milk (canned) – add in last 10 mins.
Garnish with fresh coriander.
Wednesday Menu: Fettuccine Alfredo
Ingredients:
Dry Fettuccine pasta (1/2 packet), Milk, Cream, Grated parmesan, Butter, Olive oil
Recipe:
In pan,
+ 2 tbsp extra virgin olive oil
+ 2 tbsp butter
Let melt.
+ Mixture of cream (1/2 pint) and 1 1/2 cup milk
Simmer
+ Salt, black pepper, crushed red pepper, dry parsley, pinch of nutmeg
simmer on low
+ Grated parmesan- 1/2 cup or more till sauce thickens
simmer on low
+ Boiled and drained pasta ( make sure pasta is boiled with salt in water)
Toss together.
Garnish with parmesan cheese.
Serve with garlic bread.
Thursday Menu: Dal Methi (Serve with hot steamed rice, raita and papad)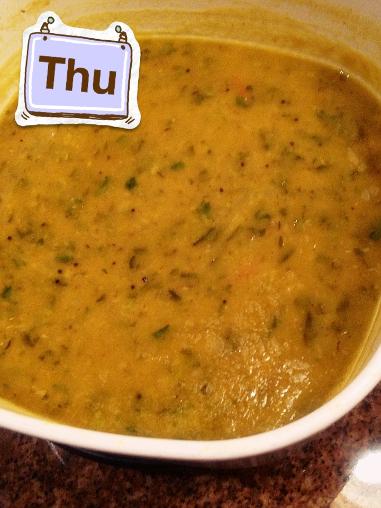 Ingredients: Toor dal (1 cup), fresh methi leaves (1 small bunch), 1 small onion, 2 small tomatoes, 1 green chili, hing, red chili pwd, garlic and mustard seeds.
Recipe:
Cook Toor dal for 3-4 whistles with-
1 small chopped onion, 1 green chili, hing, haldi, 1 tsp oil.
In a pot,
+ Oil
+ Hing
+ Mustard seeds
+ Chopped green chilies
+ finely chopped garlic
+ 1 medium onion- finely chopped
+ 1 1/2 cup fresh methi leaves- washed and chopped
+ Chopped tomatoes- 2 small
+ Haldi
+ Salt
+ Pinch of sugar
+ Cooked dal
+ Little water to get the desired consistency
Boi for 8-10 mins till all flavors marry together
+ Tarka (1 tsp ghee + hing + mustard + garlic + red chili pwd)
Garnish with fresh cilantro leaves.
Serve with Steamed Rice, Raita and Papad.