Bijal Haria is a mother of two. And here are her recipes that her kids love! Make sure you get the grocery done during the weekend, so you're ready for the week!
Monday Menu – Pesto Panini with Tomato soup
1 loaf of ciabatta, halved horizontally and soft interior removed
1/2 cup store bought pesto
1 roasted red bell pepper, roasted, peeled, seeded, and cut into strips
1/4 pound fontina cheese, thinly sliced
1/2 cup baby arugula or basil, optional
Extra-virgin olive oil
Coarse salt
Freshly ground pepper
Preheat a grill pan over medium-high heat or a panini press.
Spread one cut side of ciabatta with the pesto and the other with olive oil. Layer one side of ciabatta with red pepper, and arugula or basil. Top with cheese. Drizzle with olive oil and season with salt and pepper. Top with remaining bread.
Brush top and bottom of the sandwich with olive oil. Place on grill pan/panini maker. Grill 3 to 4 minutes until sandwich is golden and cheese is melted.
Cut sandwich into quarters. Serve immediately.
Tuesday Menu – Spaghetti with tomatoes, black olives, garlic and feta cheese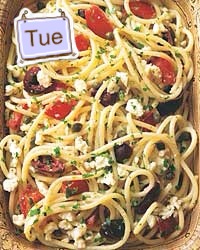 Side dish – garlic bread
Starter – Tomato soup
1 1/2 pounds tomatoes (about 3), seeded and cut into 1/2-inch pieces
1/2 cup Kalamata or other black olives, pitted
1/4 pound feta cheese, crumbled
3 tablespoons drained capers
3 tablespoons chopped flat-leaf parsley
1/4 teaspoon salt
1/4 teaspoon fresh-ground black pepper
3/4 pound spaghetti
6 tablespoons olive oil
3 cloves garlic, minced
In a large glass, combine the tomatoes, olives, feta, capers, parsley, salt, and pepper.
In a large pot of boiling, salted water, cook the spaghetti until just done, about 12 minutes. Drain.
Meanwhile, in a medium frying pan, heat the olive oil over moderately low heat. Add the garlic and cook, stirring, for 1 minute. Add the cooked pasta and the garlic oil to the tomato mixture and toss.
Wednesday Menu – Spinach Mushroom Enchilada's
Side Dish – Mexican Rice
2 whole Jalapenos Diced
2 cups Sliced Mushrooms
1 Tablespoon Butter
2 teaspoons Cumin, Divided
10 ounces, weight Fresh Spinach
1 cup Cream (recommended) Or Milk
1 Tablespoon Cornstarch
16 ounces, weight Sour Cream
½ teaspoons Chili Powder
1 teaspoon Salt
2 ounces, weight Monterey Jack Cheese
12 whole Corn Tortillas
1 cup Shredded Mozzarella
Fresh Chopped Cilantro, To Taste (for Filling And For Garnish)
Saute mushroom slices and jalapenos in butter in a medium skillet over medium heat. Cook until they are tender. Add 1 teaspoon cumin and the spinach, stir and heat until spinach is wilted. Remove from heat and set aside.
In a small saucepan, mix cream and cornstarch. Add sour cream, 1 teaspoon cumin, chili powder, salt, red pepper and cilantro. Cook and stir on medium high heat until mixture comes to a boil. Boil for 1 minute, stirring continually. Remove from the heat and add Monterrey Jack cheese, stir until melted.
Prepare corn tortillas by microwaving them for 15/20 seconds inside a paper towel. Preheat oven to 350 F.
Spray a 9×13 baking dish with cooking spray and put 1/2 cup of the sour cream mixture in the bottom. Fill tortillas with spinach/mushroom mixture, roll them up and place them seam side down in the dish. Cover enchiladas with the rest of the sour cream sauce. Sprinkle with mozzarella cheese and garnish with cilantro.
Bake at 350 F for 30 minutes.
Thursday Menu – Cheese/Veggie Pizza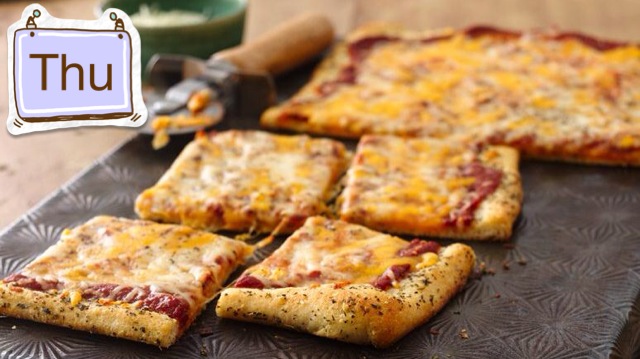 Side dish – Salad
1 can Pillsbury® refrigerated classic pizza crust
1 1/4 teaspoons dried basil leaves
1 1/4 teaspoons dried oregano leaves
1 cup pizza sauce
1 1/2 cups shredded Italian cheese blend (6 oz)
1/2 cup shredded Cheddar cheese (2 oz)
Heat oven to 400°F. Grease large dark or nonstick cookie sheet with cooking spray. Unroll dough on cookie sheet. Press out dough to 15×10-inch rectangle.
Spread pizza sauce evenly over, sprinkle with cheeses, basil and oregano leaves.
Bake 5 to 7 minutes or until cheese is melted and crust is golden brown.
You can add any vegetables to the pizza if you like. ( mushrooms, Olives, Onions, Green Peppers, etc)