Here are some of the Top Movies of 2014
Starring Arjun Kapoor (of 'Ishqzaade' and 'Gunday' fame) and Alia Bhatt (of recent hit 'Highway' fame). Produced by Karan Johar and Sajid Nadiadwala. Directed by Abhishek Varman and is based on the 2009 bestseller novel by Chetan Bhagat by the same name.
We'll begin by saying that the movie is a must see family entertainer with a lot going for it-
The cast is perfect. Of late, Hindi movies have impressed with respect to casting and this one doesn't fail either. Arjun Kapoor looks tall and a handsome stud with a nice smile and an IIT geek with awkwardness- all at the same time. Most importantly, he looks fresh. And Alia Bhat is right there matching his fresh look with her youth and spunk. Looking at the duo, you can see why the likes of Abhishek and Kareena Kapoor have to start taking a back seat after over a decade in the film industry. Bollywood gets this constant influx of fresh talent, that reduces the movie life span of those that are not Amitabh Bachchan, whose staying power has surpassed that of any other actor with movies like 'Paa', 'Bhootnath' series, etc. being churned with him at the center. We can see Arjun bagging Abhishek's and Akhshay's roles, Varun Dhawan/ Siddharth Malhotra replacing Shahid Kapoor and likes, Alia Bhat taking over what would otherwise fall in Kareena Kapoor's plate.
The love story is rather bold with respect to the level of the relationship shown, but convincing and realistic. The story, though a fiction, is said to be inspired by Chetan Bhagat's very own story of how he met his wife (Anusha) and their subsequent marriage. North and South fall in love has been done before ('Ek Duje Ke Liye', 'Chennai Express') but this one has been presented in a very novel manner.
The Parents! Chetan Bhagat's synopsis of his book rightly sketches the boy-weds-girl story in India as having a few more steps, as in- Boy loves Girl. Girl loves Boy. Girl's family has to love boy. Boy's family has to love girl. Girl and Boy still love each other. They get married.
The movie totally nails the depiction of the family angle in an Indian wedding. The illustration is real and humorous. The rude and indifferent girl's parents and the hurtful and insulting boy's parents click well with the audience, drawing laughter and understanding, and at some level even a sense of relating with the bride and the groom to be.
The movie is slow, but manages to be gripping from start to finish. The songs are beautiful too. So hey, it scores big on all counts.
Chetan Bhagat is the author of blockbuster novels – Five Point Someone (2004, inspired the movie '3 Idiots'), One Night @ the Call Center (2005, inspired the movie 'Hello'), The 3 Mistakes Of My Life (2008, inspired the movie 'Kai Po Che') & 2 States (2009). All four books have remained bestsellers since their release. His latest novels are Revolution 2020, a love story from the heartland of India and What Young India wants.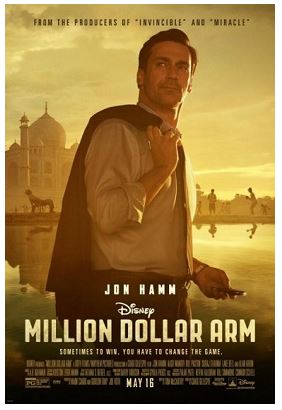 Million Dollar Arm (Released May 2014)
The Disney production, Million Dollar Arm, is based on the true story of Rinku Singh and Dinesh Kumar Patel, the first Indian baseball pitchers to make it into American major league sports. Or rather, it should be said that the movie is based on the true story of the guy who discovered them, sports agent J.B. Bernstein, for the story is told from his perspective.
Suraj Sharma (the lead from 'Life Of Pi') plays the role of Rinku Singh with subtlety and grace. And Madhur Mittal (the boy who played the older brother in 'Slumdog Millionaire') has played his part well in the role of Dinesh Patel. Their accent, from Uttar Pradesh state of India, is well done and interesting to hear. At the end, when the credit sequence shows the actual footage of the real-life characters in the movie, you can especially see how well Suraj has managed to convey the subtle spunk in Rinku Singh's eyes. Aasif Mandvi (of 'Today's Special' and 'The Internship' fame) has done well in the role of Bernstein's partner, Ash. Getting to the lead pair- Jon Hamm as 'Mr. J.B. Bernstein Sir' and Lake Bell, as 'Ms. Brenda' are very impressive. The relationship that each develop with the Indian boys is portrayed well and kept interesting.
The true tale is well told. It's inspiring, funny, subtle when needed and not when required. The movie nails the subtle and the not-so-subtle nuances of the Indian character traits which it is able to achieve because it is based on a true story. Sure it is clichéd at times, but always keeps you interested and intrigued. The part of the story that occurs in India aptly portrays all kinds of people in India- the ready to please, the ready to stall, the poverty stricken family, the son who is doing his best to help his family, the kids who follow foreigners or run after the foreign make car, the people in the village who gather around in large numbers to witness any action in anybody's life and so on and so forth. The part of the story in America is just as fascinating- the story of the immigrants who have come to pursue the American dream and at times that of a man struggling to regain his lost prosperity that America promises.
Most of the first half that is shot in India seems to be through a grayed out lens, devoid of the vibrant colors that is as much a part of India as chaos and poverty is. Even the magnificence of the Taj Mahal is much toned down, been shown from the worst possible angle and described just as plainly. The drab and the lack-luster might well make the movie a potential Oscar candidate, much like 'Slum Dog Millionaire', and you do wonder if that was the intention, but the movie goers sadly miss out on seeing a very vibrant part of India.
Overall, 'Million Dollar Arm' is a must-watch family film. The kid will surely love the movie and will certainly laugh out loud at the various funny parts.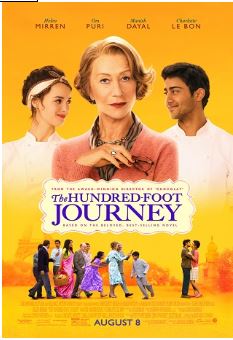 The Hundred-Foot Journey (Released Aug 2014)
The Hundred Foot Journey", based on the best-selling novel by Richard C. Morais, released this Friday, Aug 8th 2014. Produced by big names like Oprah Winfrey, Steven Spielberg and Juliet Blake, the movie stars Helen Mirren, Om Puri, Manish Dayal and Charlotte Le Bon in lead roles.
As advertised, 'the movie is a portrayal of two worlds colliding and one boy's drive to find the comfort of home in every pot'. And this is where the 'desi' connection lies, for one of the two worlds is that of an Indian immigrant family trying to run an Indian restaurant serving mouth watering 'mutton gosht', 'chicken tikka', 'tandoori roti' and the works in the south of France! To make matters worse there's a Michelin-starred French restaurant right across, 100- foot away, whose owner is far from happy at the prospect of having to face 'loud music' and 'food that needs to be toned down'. And so begins the war of food, culture and words.
Om Puri is simply superb. His comic timing makes the dialogues hilarious and his portrayal makes the character as real as it can get. He has proved his versatility as an actor over and over in the past, but this performance here proves that he has the caliber of an international actor, if ever there resided a doubt in anyone's mind.
As for others- Helen Mirren played her role of the uptight and cold French palate to perfection. Manish Dayal is a natural and so is Charlotte. Juhi Chawla is seen in a guest appearance and the Indian spices take the starring role which I'll surely discuss more in a while…
The story is set in the village of Saint-Antonin-Noble-Val in the south of France. The scenic beauty of the location charms you just as much as the elegance with which the food is presented. The picturesque locations seem to pop straight out of a writer's imagination. I haven't read the novel, but I can surely picture the detailed descriptions of the French village in my head.
Music by A. R. Rahman is well 'sprinkled' and 'nicely spooned in' – these phrases will mean so much more to you once you've witnessed the 'two worlds collide'.
The movie has the funniest exchanges involving the desi 'papa'. And like I said, can't imagine anyone but Om Puri delivering them. And that's what a great actor does- he makes a character a part of himself such it is impossible to imagine it's portrayal outside the mold that is him.
'Food is a science' you hear in a posh restaurant's kitchen in the movie. Throughout the movie you see and feel the science behind the making of the food – both in term of precise measurements, the combinations and proportions of various spices and everything else that goes into the pot to produce the most appetizing and flavorful food possible. And then there's the art of presenting it, for yes, a masterpiece has been created! The movie is an absolute ode to our Indian spices- our turmeric, the laung, cardamoms and cilantro. And the best part is these have taken the center stage not via it's usage in Indian cuisine in India and abroad alone but also in French cuisine in France. France presents a new frontier and makes for a majestic location for the novel/ movie.
To Summarize…
Hassan Kadam's journey of discovering and growing his culinary skills might have taken him into a foreign territory, both in terms of place and cuisine, but he certainly didn't leave his roots behind, again very much with respect to our Indian spices! You might wonder at his choice in the end ( I did) but the truth is, that is what today's generation and today's world is about- globalization in every field- yes, even cultures and cuisines- 'One World', as they say. I only hope that the world never sheds the 'Indian' tag from our age old spices and that our very old yet forever evolving culture is always given it's due.
'The Hundred-Foot Journey is a must- watch movie for every single person who wants to embark on a journey of adventure with food, to educate oneself of the science and the art behind it and most importantly to pay our respect to the spices that are part of one of the oldest cultures in the world- the Indian culture!
Singham Returns (Released Aug 2014)
This Rohit Shetty directed, sequel to the original Singham is packaged such that you're guaranteed a three hour long entertainment, albeit the kind of entertainment that nothing new but entertaining nonetheless. The movie released Aug 15th 2014 and stars Ajay Devgan, Kareena Kapoor, Anupam Kher, Amol Gupte, Zakir Hussain and Dayanand Shetty. It is produced by Ajay Devgan Films and Rohit Shetty productions and distributed by Reliance Entertainment. We have ten things to say about the movie-
#1. Ajay Devgan- I have lot of respect for the man, who in this era of the Khans and/ or star kids, has made a place for himself on the basis of his talent alone. You would never call him good looking, but you would never call him anything but talented either. He plays his age in the movie ( love it when our established actors do that) and another thing that impresses about him is that he has kept up with the demands of time, yes, I mean body wise ( ahem, ahem- Abhiskek Bachchan, are you reading this?)
#2. Loved the choice of Kareena Kapoor. She replaces Kajal Aggarwal from the original Singham. Just as well 'coz Kajal looked way too young against Ajay Devgan. As for Kareena's role, felt like the makers forgot she isn't playing 25. That said, Kareena being Kareena, gives a wonderful performance. She brings humor to the movie and provides comic break in an otherwise beat-up-the-bad-guy kind of non-stop action. Many will relate to her love for eating and in keeping with that, she is not shown in her size-zero avatar- that could possibly be her real-life form of today, but definitely plays well with her role. Anupam Kher impresses as a politician with a vision. The two sets of parents are real and so are all the other characters- be it the woman on the street, the cop's widow, the youth in politics, etc etc.
#3. The Mumbai police squad successfully impresses. They are well built, show strength in unity, show sculpted biceps in vests and above all integrity in adversity. Dayanand Shetty deserves a special mention here. His impressively bulked up body does wonders to the image of the 'sidey' police officers. The bar has been raised. They are certainly a force to reckon with and constitute an important factor in making this movie a good watch.
#4. The media for a change plays a good part too- in terms of the kind of presence they have in the movie that is largely epitomized by Ashwini Kalsekar. She is the surprise take-away from the movie – her personality, her attire, the traditional appearance, her tone of voice – everything leaves a mark. Others-
#5. In comparison to the original Singham? Well, the huge success of the original certainly seems to have given the producers lot more confidence with the Marathi identity as well as the 'singham' (lion like) aspect of Baji Rao's character. You see a very confident and liberal usage of the Marathi language, unlike the first one, where as per Ajay himself (in an interview), they weren't sure how well the use of the Marathi ' Aata Majhi Satakli' will click with the audience. In fact, knowing how well it did click, there is actually a closing score on it by Yo Yo Honey Singh that stars one very passionate kid singing along in a track that repeats 'Aata Majhi Satakli, mala raag yetoy' (meaning I'm losing my mind, I'm furious).
In terms of scenes and language, yes, they'll enjoy the action too. The many conversations get hard to grasp, for the non- Hindi speaking kids as there is only so much of the politician plot of the Indian politics that you can comprehend by reading the sub titles. The movie is fast paced and keeps your attention throughout. It got zero yawns from my husband (I say that's a zero on the yawn-o- meter and that's saying a lot). There are no slow and stodgy phases.
To summarize, watch it and watch it soon, but only if you loved the previous one.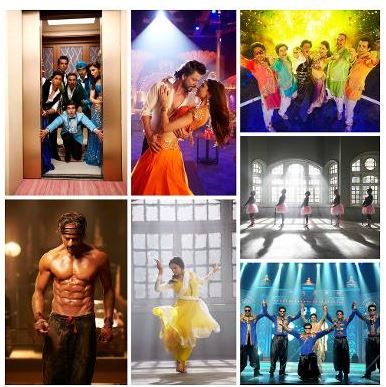 Happy New Year (Released Oct 2014)
Cast: Shah Rukh Khan, Abhishek Bachchan, Deepika Padukone, Boman Irani, Sonu Sood, Vivaan Shah, Jackie Shroff
Director: Farah Khan
The movie released with a Bang that even 'Bang Bang' didn't quite make. As per India today, HNY raked in Rs 108.86 crore – the biggest opening weekend that a movie has got at the box office in India, beating Dhoom 3 and 'Chennai Express' records.
In true SRK style, the movie was well promoted. It's trailer was released with lot of fanfare, the event highlighted by the fact that the entire team showed up for a joint interview and even walked the ramp in team India jackets. The team also toured major cities of America in concert called 'SLAM' and finally several promotional events and interviews were organized to ensure hype and anticipation.
#1. The Case
Deepika Padukone is a complete package. Here she simply proves it one more time. Her beauty and her intellect, her talent and her tall toned frame- make her a subject of adoration for men and women alike. She really just reiterates that she rules!
SRK seems to be listening to us. In our 'Jab Tak Hain Jaan' review, we said he should play his age. In 'Chennai Expeess' he did that. In our 'Chennai Express' review we said he should act his age too. Here, he both plays and acts his age. He finally gets it here- there's no over acting either. To add to his charisma, his much talked about 10 pack abs (and the hint at the additional 2 covered packs;) are display for your admiration. SRK said in an interview that 10 are visible and two he kept covered. Whether you care about his chiseled torso or not, you end up silently counting them- haha.
As for Abhishek Bachchan, Jr. Bachchan certainly makes the most of the opportunity he got with this film. He might be one of the many side kicks, but he stands out and leaves an impression. His 'Bol Bachchan' dance style makes you burst out laughing.
#2. The Concept
In this age of 'going Hollywood' in terms of producing Hollywood standard of movies (thinking of the 'Race' series and the 'Dhoom' series) got to hand it to Farah Khan and King Khan to stay true to what has come to be known as Bollywood masala the world over. Like they said in practically every interview, the movie is about everything that you say Hindi movie is about. It's about personal shortcomings, a son's revenge, and about losers finally winning- all surprisingly perfectly packaged- barring the exceptions further down.
Another aspect to the concept is spoofs of movies and characters- there's the 'Deewar' – angle ( 'tera baap chor hai'), the 'Shalimar'-angle, the 'Mohini' angle from 'Tezaab', the 'Kamli' angle from 'Dhoom 3', the 'Main Hoon Na' angle, the Titanic angle, 'The Bachelor' angle, etc. etc. While some are explicitly explained, most are implicit.
Dubai locations are of course out of this world. The Indian diaspora shown there are well interpreted. The India part of the movie is just as interesting. The overbearing mother, the dance sets are all appealing.
The plot seems to be inspired by the Hollywood flick, Ocean 11. While the Hollywood series (there was a 12 and a 13 too) was a rather sophisticated heist organized by a couple of truly cool dudes to avenge wrong doing against a friend, our desi version, in true Hindi masala formula, is a saga of a son's revenge with the aid of hero-proclaimed losers. Once the selection of these losers is made, the plot takes on course with spoofs galore.
Overall-I would rate the movie 'G', it's a family entertainer.
In the end, the movie turns out to be exactly what the team promised it would be- a total Bollywood masala entertainment. It stays true to the concept, provides laughter, maintains pace, accords top notch performances and above all is a true family package. If you haven't already, head out with your kids soon to enjoy some good laugh- provided you're prepared to sit back and let yourself digest the decades old 'masala' served on a designer platter.
pk (Released Dec 2014)
Cast: Aamir Khan, Anushka Sharma, Sushant Singh Rajput, Boman Irani, Saurabh Shukla, Sanjay Dutt
Directed by: Rajkumar Hirani
You name any actor cast in any role in this movie, and you come out thinking he/she has done his/her part in making the movie what it is, right from Aamir Khan and Anushka Sharma in lead roles, to Sanjay Dutt and Bhoman Irani in supporting roles to Ranbir Kapoor in a cameo role and everyone in between.
The Message: By now, probably everyone already knows that the message relates to various religious practices in different religions in India. If there is anything that speaks louder than the powerful cast executing their part to perfection with ease, it's the message delivered with logic and strength. In fact, of all the Hindi movies, this movie ties in all the facts leading to the realization, formulation and delivery of the message in a manner that has not been done so neatly before. The concept is very much in keeping with the 'Munna Bhai' series- Rajkumar Hirani's previous pride.
The sets, location, costumes and all thing nice are truly all things nice that add to the masterpiece that is PK. The Belgium locations seem to be straight out of a pages of a novel. The sets and locations in India seem to be hand picked based on cleanliness and beauty or perhaps Modi's clean India campaign has bore fruits already. The clothes are colorful and even religious 'ashrams' are posh. So yes, the movie is aesthetically beautiful. Not to say, this should become a trend, for we do love to see India the way it is, unless- all clean and beautiful is the way it becomes.
Living in America, we know that we have to have lots of conversations with our kids in order to drive home various messages pertaining to our culture, traditions and religion. Kids here do not have the advantage of naturally imbibing what it means to follow a culture, tradition and religion that they witness only within the walls of their home, that is not followed by the masses. Once in a while a movie comes along that naturally leads to curiosity, questions and discussions. This is THAT movie. It covers different aspects of various different religions. Granted the focus is more on fraud Hindu leaders and the Islamic leaders have been spared- they certainly deserve the attention, but at least there is a mention of 'fatwa' and 'ban on female education' in Islam. It would have been nice to see the Islamic leaders take some heat too, after all, they mislead the followers of their religion in a manner that costs world grievances of catastrophic proportions.
The movie provided us an excellent opportunity to discuss various different aspects of following different religion. My daughter wanted to know about the practice of men whipping themselves in certain sect of Islam. When I told her they do that to atone their sins, she goes, "So they have to hurt themselves and all Hindus have to do is take a dip in the holy Ganges?" I laughed, "yeah, we kept it simple" (we're Hindus). And so the conversation went….
Needless to say- it's a must-watch with your kids.