As you travel around Alaska, you'll pick up several interesting tidbits about America's largest state from the different tour guides, documentaries that you get the opportunity to watch and the travel guides that you pick on the way. You'll learn that Alaska is twice as large as Texas and about as large as 22 smallest states combined. You'll learn from your tour guide along the way that Alaska was bought from Russia for $ 7.2 million (at 2 cents an acre) by the then Secretary of State, William H. Seward, during Andrew Johnson's presidency in 1867 and that Seward was criticized for spending the tax payers money for buying "Seward's icebox" and Andrew Johnson's "polar bear garden" – it was said. Little did the nay sayers know that it'll bring in gold (in the 1880s and 1890s), petroleum (Alaska's richest mineral resource), salmon and the tourism money. Your lessons on Alaska will keep you wanting more.You'll learn that the other states of USA are referred to as the lower 48 by the Alaskans and people from there are called the 'outsiders'. Other facts you're sure to pick up-
In 1946, Alaskans approved statehood. On January 3, 1959, President Eisenhower announced Alaska's entry into the Union as the 49th state.
Alaska has about 100000 glaciers, over 600 of them are named.
Alaska is home to 17 national park systems. Wrangell-St Elias, at 8 million acres, is the country's largest national park, twice as big as Denali and six times larger than Yellowstone.
The Tongass National Forest, at 17 million acres is the largest national forest in the country.
Wood- Tikchik State Park is the largest state park in the country.
Alaska has the most licensed pilots per capita.
Jade is the state gemstone and forget-me-not, the state flower.
Tlingit (pronounced Klinkit), the Alaskan natives, tell stories of the little ice age when the glaciers advanced, uprooting the natives.
The term 'sourdough' is used for an Alaskan or Yukon old timer. 'Breakup' is the sunshine after fall.
Best Way Of Seeing Alaska: We recommend the following-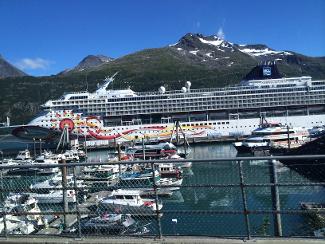 1. Cruising through Alaska is the best way of seeing Alaska. Otherwise you'll probably end up spending more in travelling through the three main islands there, 7 days of lodging, dining and taking excursions to see the glorious glaciers. Most cruises take you through three ports- Ketchikan, Juneau and Skagway, plus a day or two of glacier viewings. We must make two recommendations with respect to the cruise that you pick-
a. That you take a one way 7 days cruise to Alaska. This way you get more time for glacier viewings apart from the three ports. Round trip 7 days cruise will have just one day assigned to a glacier on route, while the one way cruise has two designated days for glacier viewing and takes you inside the Glacier Bay that gives you an experience of a lifetime. Although my sister, who had taken the round trip cruise with her family a few years back, felt that just viewing the one glacier on an afternoon was a good option too.
b. That you start the cruise from Vancouver or Seattle and end in Alaska. Between Vancouver and Seattle? We boarded from Vancouver and faced 2 hours customs line. My sister mentioned that boarding from Seattle saved them the customs hassles during their last Alaska Cruise experience. Either way heading to Alaska versus starting from there is what we recommend. Let the glaciers be the grand finale of your trip. Let each day surprise you, as you go deeper into your Alaskan experience.
2. Pack lot of layers of clothing. Along with your summer clothing, do pack- light fleece, ear muffs, gloves, warm caps that cover the ears and rain or water resistant hooded jackets. Any glacier viewing experience will involve multiple layering.
Day 1 & Day 2- Cruising, On the sea days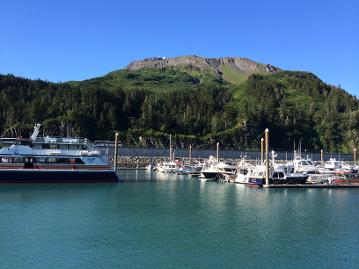 If you have picked cruising around Alaska as your travel plan, day 1 of embarkation and the following day is all about sitting back in the lap of luxury. If you have cruised before you need no telling how busy you're going to be these two days on the sea and even afterwards simply eating, participating in activities, eating, more activities, eating, still more activities, eating, watching shows and finally- eating again. Food is free at five different locations on the ship. And you do eat seven courses, seven times a day, all seven days (at least you have the choice to). Norwegian is more free style cruising which essentially means you don't have a designated time, table and attendants at formal dining each day and that you're free to choose your options. Entertainment on the ship is super as top class comedians, jugglers, musicals, etc. take the stage each evening. There are optional portrait nights that you get to dress for and lot of crew organized fun and games. Rest assured, you won't get bored at sea.
For those wanting Indian cuisine on board, there are lot of options. Of the numerous breakfast items for breakfast in numerous different locations, we found one Indian breakfast item daily. It was a good experience to have Upma, Chai- Samosa, Poori- Aloo, Poori- Undhiyo and Poori-Paneer on the sea. For dinner too, we made it a point to request Indian vegetarian at the formal dining and were treated with Rajma, Pulao, Palak Paneer, Roti, Raita, Dal Fried, etc. along with the daily chef's specialty of sea food.
Day 3- Ketchikan

As your daily cruise newsletter will inform you, Ketchikan is the southeastern most city in Alaska in Ketchikan Gateway Borough. The city is named after the Ketchikan Creek that flows through the city. It is the sixth most populous city in the state with a population of over 8000. It is known for possessing the world's largest collection of standing totem poles.
If you didn't already see the Lumberjack show at the Gross Mountain in Vancouver (your port of embarkation), you have another shot at catching one here. If not, take a walk around the Totem Heritage Center (this exhibits the only original totem poles collection in USA) and Saxman National Village which is about a mile away from the harbor. As you sail away from the port later in the day, be sure to be on the deck- watching the beautiful city blur away from vision.
Day 4, Juneau

Again your ship's daily newsletter will inform you that the City and Borough of Juneau is the capital city of Alaska. It is a unified municipality and is the 2nd largest city of USA by area, populated by some 30,000 people.
Here take a bus ride to the Mendenhall glacier. You can book the bus on your own at the port. The best deal that was offered to us as we walked by different agents was $ 10 per adult and $5 per child each way. The beautiful blue icy glacier will be your introduction to glaciers and this one is sure to captivate you. Learn about why it's blue and how glaciers retreat and advance at the visitors center
Day 5, Skagway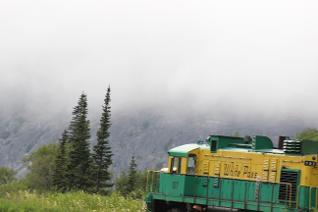 Skagway is a seven-block corridor along Broadway. Beginning in 1897, Skagway and the nearby ghost town of Dyea was the staring place for more than 40,000 gold-rush stampeders who headed to the Yukon mainly via the Chilkoot Trail, as usual, you'll be informed via your ship's newsletter (and by now you've gathered that is rather informational).
If you followed our advice, you have already booked the White Pass & Yukon Route Railway train ride through the cruise (please note that due to an accident this train is currently suspended). There's no price difference and certain number of coaches are booked for the cruise. This three-hour, 40-mile roundtrip tour to the White Pass Summit at the US-Canada border 2,865 feet high offers a beautiful trip overall.
Day 6, Glacier Bay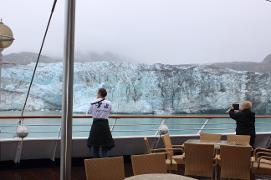 In 1795, Capt. George Vancouver sailed here looking for waterway and found a wall of ice 5 miles into the bay. Almost a century later, in 1879, conservationist John Muir came looking for 'that wall of ice' and found waterway instead- the glacier bay, the glacier having retreated 40 miles. Today, the 250 years old Glacier bay is a 65 miles long passageway where ships can now pass through, allowing you a breathtaking view of the Reid Glacier, the Lamplugh Glacier, the
Margerie Glacier and the Grand Pacific Glacier. Our cruise ship had reached the Glacier Bay early in the morning, picking up rangers from the Glacier Bay National Park at 6:00 am. With ranger commentary in the backgroud, we toured through the bay. Words can't describe the experience of coming face to face with the glorious Margerie Glacier. The magnificence can't be mouthed. The charm can't be captured by any language. It's not just the visual, the history and the geography of this nature's art mesmerized us. Even the ongoing ranger commentary stops here as the ranger onboard says, "I'll let you have your own conversation with Margerie at this point". Soak in the beauty of what you see as this is the grand finale of your trip, the reason why you must take the one-way 7 days cruise to Alaska. The journey through Glacier Bay is a journey through time- be sure to travel back to the 'little ice age' and learn about the Tlingits who were uprooted only to return when the glacier retreated.
Day 8, Disembarkation at Whittier, Anchorage
As the 7 days of cruising ends at Whittier, you definitely want to explore more of Alaska. Take the shuttle to Anchorage that you've already booked. The route to Anchorage is beautiful. There is a 2.7 mile tunnel that is one way one hour. See the Lennard glacier, Portage and Bruin glaciers on way, get some history of Whittier from the world war days and lots of fun facts on Alaska, it's wildlife, vegetation and yes, it's Salmon.
Day 9, Anchorage
One whole day in Anchorage should give you a good feel for the place. Walk around the streets of downtown, eat reindeer hotdog, walk around the Veteran's Memorial Park, visit the Ulu Factory, collect some souvenirs and do whatever else catches your fancy- as always.
Food- now that you're on your own (and no doubt missing the 7 courses 7 times a day from the 7 days on the cruise ship), you will be trying some local restaurants. Some good restaurants to try- 'Fat'- known for it's wood fired pizzas with innovative toppings. Try their blackened halibut pizza, its delicious. There is 'Ginger' for Vietnamese food. Or pick any other local restaurants that appeals to you- most will. Have your evening chai at the 'Cake Studio' bakery. Be sure to try their Yukon Gold and Brownie Sundae. Leave for Denali later in the day after sight-seeing. It's a 4 hours drive.
Day 10, Denali National Park
Denali is the local name for Mount McKinley that translates to "the high one" or "great one" in Athabaskan, one of the native Alaskan language. The mount is the highest mountain peak in birth America. Drive to the national park is absolutely scenic. We stayed at the Princess Lodge. There are free shuttles from there to the Wilderness Activities Center from where the bus tours start.
Denali park shuttle bus to Toklat will give you a 6 hour tour of the park with rest areas and view points breaks at $37 per adult (16 and under tour free). You have the option of doing the hop off n hop on option.
To give you a perspective of how large this second largest national park of America is, if you cover 1000 acres per day by hiking, it'll take you 16 years to cover the park. Denali National Park is a must-see to complete your travel around Alaska because here you get a true experience of how huge the state truly is. It's the sheer vastness of the park that impresses you. Occasional wildlife sightings are a welcome excitement as well if the weather is good – which it is only on about 65 to 67 of the 105 days of summer. So good luck seeing the famous Mt McKinley. Be sure to be well layered to get off the bus for pictures. Definitely carry your binoculars too. When we were there it was mostly raining and we didn't see much wild life except mountain sheep and a bear. A day there is good to be able to experience the sheer vastness of this 2nd largest national park in America and to be able to say 'been there seen that'. Otherwise there's literally miles to explores before you finish.

Food- there are lots of good restaurants at the Princess Lodge premises. There's a Subway across from the lodge as well for quick breakfast and meals. Also a definite must-try is s a Brown Bear Coffee House right across also. Highly recommend their Curry Red Lentil soup (literally the desi masoor dal) and paninis.
Back to Anchorage. Fly back home from Anchorage, bidding adieu to Alaska!